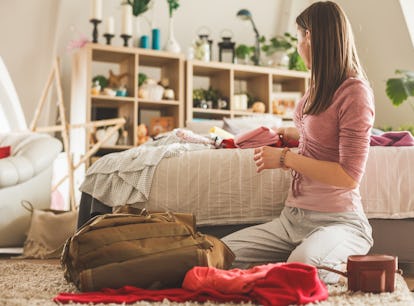 15 TikTok-Approved Tips For Traveling With A Backpack That'll Help You Pack Light
Here's why an OOTD color scheme is so genius.
fotostorm/E+/Getty Images
Just as excited as you are to travel some place new, you may equally dread packing for the trip. It's not as easy cramming every outfit you want to wear and essential toiletry you need to bring into your luggage. Since airlines are also making it almost impossible to check a bag nowadays unless you want to fork over more than $30, many people are opting for only bringing carry-on bags for their next vacay. To pack light, you need some hacks for traveling with a backpack.
The thought of only bringing a backpack on your next trip may be intimidating AF. It's hard to imagine you can fit a weekend's worth of clothes into one backpack, but expert travelers have found ways to make not just clothes, but also makeup, jewelry, and even an extra pair of shoes fit into their bags. In fact, traveling light has become a new fad for those with wanderlust, looking for budget-friendly ways to get to more of their dream destinations.
To get you on the traveling light train, all you need is a list of the essentials and tips on how to travel with a backpack from TikTokers sharing their best-kept packing secrets. From using backpacks the size of carry-on bags to packing cubes that compress easily, here are 15 hacks for traveling with a backpack as well as a list of products you'll want to add to cart ASAP.
We may receive a portion of sales if you purchase a product through a link in this article.