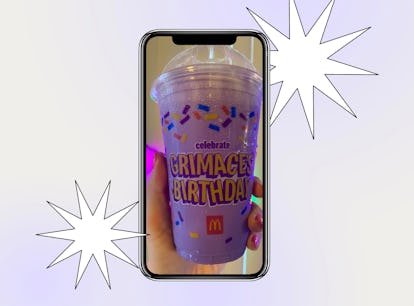 I Tried McDonald's Grimace Shake That's Trending On TikTok
It's hard to describe what the viral sip tastes like.
Rachel Chapman/Elite Daily
Grimace's birthday was on June 12, but TikTok is still obsessing over his milkshake from McDonald's. The purple treat is part of the Grimace Birthday Meal, which also includes either a Big Mac or 10-piece Chicken McNuggets and fries. Just like the character of Grimace is a bit of a mystery (what even is a Grimace?), the shake's flavor is also up for interpretation. The intrigue of Grimace's Shake has led to an even more puzzling TikTok meme, where a taste test of the purple treat turns into a mini horror film. If you're confused by these videos on the FYP, just know that the flavor of the Grimace Shake is just as mind-boggling.
McDonald's hasn't said exactly what the Grimace Birthday Shake is, but a spokesperson revealed to Today that it's a mix of vanilla and berry flavors. Since it's a mystery, I wanted to try it for myself. I've seen people on Twitter say that the Grimace Birthday Shake tastes like strawberries, blueberries, and even grapes. Others have also compared it to cereal milk, cough syrup, Fruity Pebbles, and just plain vanilla. One user said "it tastes like purple," and I have to agree. The flavor was so confusing to me that describing it as color is probably the easiest way to explain what it tastes like. However, I will attempt to decipher exactly what I experienced when I tried the Grimace Birthday Shake from McDonald's.
McDonald's Grimace's Shake Review
I really wanted to love the Grimace Birthday Shake. Purple is my favorite color, and I love a drink that is both Insta-worthy and delicious. Unfortunately, as much as I loved the hue, I was not a fan of the flavor. I was hoping for more of a vanilla birthday cake shake with a hint of fruit, but it was very fruity and artificial tasting. To me, it didn't taste like blueberries or strawberries, but more like grapes — which I associate more with the color purple. However, it was hard to tell if it actually tasted like grapes (or another fruit blend) or if I was mentally associating the fruit taste with the hue of the drink. That could also explain why reviews of the Grimace Shake vary from person to person. That's just a theory, but overall, I wish McDonald's stuck with just vanilla. I would have loved a classic vanilla birthday cake shake that just so happened to be purple in color. While that's not as interesting of a flavor, I would have been a fan.
Either way, I think the Grimace Birthday Shake is an experience that everyone should try. While I didn't like it, I am eager to hear what my friends think. You can even film your own Grimace Birthday Shake TikTok meme video with your taste test. All you need to do is start of your video like you're wishing the adorable purple character a happy birthday and take a sip, like you would with any other foodie TikTok. Then, as TikToker @guaquamolininjabenis does, cut to a shot of a crime scene with the Grimace Shake.
Just don't expect Grimace to see your video. The official McDonald's TikTok shared a video on June 29 of a shocked Grimace putting his hands over his eyes with the caption, "Mee pretending I don't see the Grimace Shake trendd." I hope Grimace knows that going viral on TikTok is probably one of the best birthday gifts he could have received.