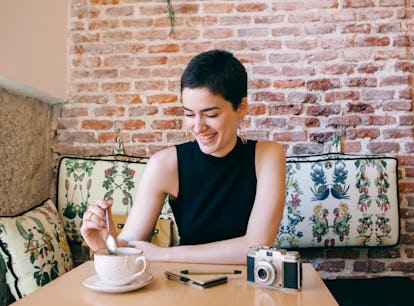 Use These 25 Gratitude Quotes For Captions That'll Spread Positivity On The 'Gram
You'll be grateful to have these quotes ready to go.
Beatriz Vera / EyeEm/EyeEm/Getty Images
When you actually take a step back and look at everyone and everything you have in your life, that's a lot to grateful for. While you still have your hopes, aspirations, and things you're manifesting for yourself, especially with a new year around the corner, it also feels good to practice gratitude for the things you already possess. It's only then that you notice all the wonderful things going on. Spread that positivity on the 'Gram as well with some gratitude quotes for captions.
Your Instagram is where you share all your favorite moments and memories. The things that are Insta-worthy are also things you want to remember and reflect on. This is precisely why some mindfulness gratitude quotes will pair so well with them. It also doesn't hurt that practicing gratitude regularly has some health benefits as well. It's a form of self-care that can lead to more empathy, confidence, and mindfulness, as well as help you destress when you're feeling overwhelmed. Let's not forget that if you're sharing your gratitude with the ones you love, they'll receive some of those benefits as well. That's even more reason for you to use some gratitude quotes as captions with all your BFF selfies.
You could even start a new Insta tradition of sharing all your favorite moments month-to-month in a photo dump with some gratitude affirmations. Even if you're just in need a quick caption to post that adorable photo you just took, you'll be happy to have these 25 mindfulness gratitude quotes to use as a caption in the moment.
"We can only be said to be alive in those moments when our hearts are conscious of our treasures." — Thornton Wilder
"Always have an attitude of gratitude." — Sterling K. Brown
"Appreciation is a wonderful thing. It makes what is excellent in others belong to us as well." — Voltaire
"Be thankful for what you have; you'll end up having more. If you concentrate on what you don't have, you will never, ever have enough." — Oprah Winfrey
"Just over here acknowledging the good I already have in my life."
"I'd rather have gratitude than an attitude."
"I am happy because I'm grateful. I choose to be grateful. That gratitude allows me to be happy." — Will Arnett
"Gratitude is riches. Complaint is poverty." — Doris Day
"Reflect upon your present blessings — of which every man has many — not on your past misfortunes, of which all men have some." — Charles Dickens, A Christmas Carol
"This is a wonderful day. I have never seen this one before." — Maya Angelou
"Strive to find things to be thankful for, and just look for the good in who you are." — Bethany Hamilton
"When we focus on our gratitude, the tide of disappointment goes out and the tide of love rushes in." — Kristin Armstrong
"Gratitude is a divine emotion: it fills the heart, but not to bursting; it warms it, but not to fever." — Emily Brontë, Shirley
"If a fellow isn't thankful for what he's got, he isn't likely to be thankful for what he's going to get." — Frank A. Clark
"I've got a lot to be grateful for."
"The struggle ends when gratitude begins." — Neale Donald Walsh
"Enjoy the little things, for one day you may look back and realize they were the big things." — Robert Brault
"I have a lot to be thankful for. I am healthy, happy and I am loved." — Reba McEntire
"When I started counting my blessings, my whole life turned around." — Willie Nelson
"It's a funny thing about life, once you begin to take note of the things you are grateful for, you begin to lose sight of the things that you lack." — Germany Kent
"Silent gratitude isn't very much to anyone." — Gertrude Stein
"The heart that gives thanks is a happy one, for we cannot feel thankful and unhappy at the same time." — Douglas Wood, The Secret of Saying Thanks
"We must find time to stop and thank the people who make a difference in our lives." — John F. Kennedy
"What separates privilege from entitlement is gratitude." — Brené Brown
"Gratitude is the ability to experience life as a gift." — John Ortberg, When the Game Is Over, It All Goes Back in the Box