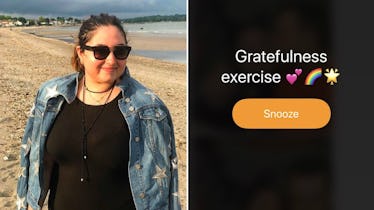 I Started Using Gratitude Alarms For Self-Care & I Never Expected These 5 Things To Happen
It's 8 p.m., and I'm watching Law & Order: SVU (again). I hear my phone buzz and check the home screen, scrambling for the remote so I can pause the show and center my attention on the day I just had. Sure, I may have been stressed at work, or my subway may have been delayed by a half hour, but what else happened? There has to be at least one good thing, right? When I say gratitude alarms can change your life, I mean it. Ever since I started using one, I've become somewhat of an expert at finding even a sliver of positivity on an otherwise awful day. Yes, it wasn't always easy to scope out what I'm grateful for in my everyday life, but after four months of using my gratitude alarm, I'm now basking in the benefits, and honestly, I couldn't be happier.
I was first introduced to gratitude alarms by my boyfriend's terminally ill cousin back in February 2018. Despite her condition, she continued to persevere and found something to be thankful for every day she was alive. Even on days when she couldn't speak or get out of bed, she'd always use these alarms to help her find purpose and gratitude in even the smallest of things, like taking a walk around the block, or even just being able to open her mouth to speak. I was so inspired by her, I decided try out the alarms for myself.
The idea itself is simple: Set an alarm every day (mine goes off at 8 p.m., but you can set yours for whatever time works best for you), and state what you're thankful for, whether it's a good day at work, or quality time spent with people you love. Personally, I find it more helpful to say it aloud, but you can write your thoughts down on paper, or even in a notes app on your phone — whatever feels most comfortable for you. Overall, the exercise is simply about finding something to be grateful for amidst the chaos and stress of your daily routine.
After four months of having a gratitude alarm in my life, I can honestly say my life has changed for the better, all thanks to a simple self-care routine that literally takes less than minute to do. Here's what I've gained from using gratitude alarms every day, and what you might be able to learn from practicing this habit, too.