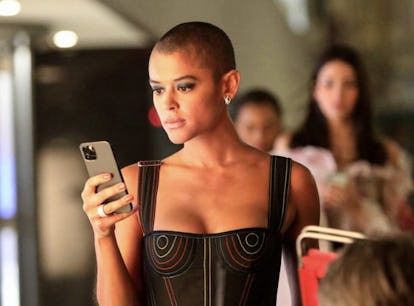 The #GossipGirlHere TikTok Trend Will Make You Feel Like An Upper East Sider
Grab your headbands and blazers.
IMDb/HBO Max
Great news, Upper East Siders: Gossip Girl is back, and so is the iconic opening lines from Kristen Bell, who voices the tell-all internet persona themself. If you tuned into the original series when it ran from 2007 to 2012, or streamed it in anticipation of the HBO Max reboot streaming on July 8, you can probably already quote GG right down to the "XOXO." The #GossipGirlHere trend on TikTok will give you a chance to take on that persona yourself, and pretend you're one of Manhattan's coveted members.
The trend is based around a "Gossip Girl" audio clip from HBO Max. It captures Bell's opener of the reboot, where she reminds fans that she's the only source for gossip on the elite, and says, "Been a minute, did you miss me?" (Umm, hell yes.) TikTokers are using the audio clip to pretend they're a part of the world of Julien Calloway, Max Wolfe, and Zoya Lott, by mouthing along to the words, dressing up in Gossip Girl-inspired outfits, and touring the filming locations in NYC.
Whether you're a new or old fan of the show, you need to give it a try, so you can feel like a real socialite. Before filming, break out your headbands, or decide on clips you want to take in Grand Central Station, near the Empire Hotel, or with your TV. These #GossipGirlHere videos on TikTok will serve as some stellar #inspo.