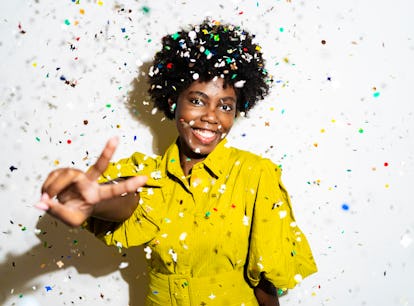 30 Goodbye 2021 Captions To Highlight All That You've Done This Past Year
Cue the 2021 recap Instagram Reel.
Westend61/Westend61/Getty Images
Ringing in the new year is always cause for celebrating what's to come, but it's also a good time to reflect on everything you've accomplished in the last 365 days. When you take the time to step back and look at 2021 as a whole, you've done some incredible things despite everything that was going on. One way to showcase all that you've accomplished is to post a cute 2021 recap Instagram Reel or photo dump of your highlights. As a sendoff to the year you had, you'll need some goodbye 2021 Instagram captions to accompany them.
This past year, you've probably tried a few new TikTok recipes and dance trends. You've marathon-watched tons of shows like Succession and Squid Game and listened to new albums over and over again. Your fashion and hairstyles have probably changed a bit, and you've experimented with new makeup lewks you discovered while scrolling on your phone. Perhaps you even went on a few adventures here and there as well.
Heck, 2021 was the year #FreeBritney became a reality and Adele and Taylor Swift told us it was OK to have a sad girl autumn. With everything you've done, it's no wonder you're in need of the right words to say au revoir. For your 2021 recap throwback posts and highlight Reels, here are 30 goodbye 2021 Instagram captions you can use. Some of these goodbye quotes can even be used for your New Year's Eve selfies as you're counting down the clock to 2022. So, let's toast to the year with goodbye 2021 captions for every memory.
"Goodbye 2021, hello 2022."
"2021 and done."
"At least you were better than 2020."
"I think *NSYNC said it best when they said, 'bye bye bye.'"
"2021? I don't know her."
"I remember it all too well." — Taylor Swift, "All Too Well (Taylor's Version)"
"The best endings always have confetti."
"Thank you, 2021, for two Taylor Swift albums."
"This is truly a *good*bye."
"Out with the old, in with the new."
"Waiting for my 2022 upgrade."
"Catch you on the flippity flip." — The Office
"2021, you were my cup of tea, but I drink champagne now."
"'Well good for you, I guess you moved on really easily' — 2021 to me"
"Hey 2021, thank you, next."
"Appreciative of the lessons 2021 brought and the growth 2022 will show."
"I ate too many salmon bowls and baked feta pasta this year."
"Can we skip to the good part?" — AJR, "The Good Part"
"I need to get some air, I need a change of scene." — Katelyn Tarver, "All Our Friends Are Splitting Up"
"Goodbye to you. Goodbye to everything that I knew." — Michelle Branch, "Goodbye To You"
"We do not remember days, we remember moments." — Cesare Pavese
"Remember when Olivia Rodrigo got her driver's license?"
"If you're brave enough to say goodbye, life will reward you with a new hello."
"I don't know about you, but I'm feeling 2022."
"2021, I would say see you later, but I don't know how to time travel."
"Don't cry because it's over, smile because 2022 is about to happen."
"Tell him, 'Boy, bye.'" — Beyonce, "Sorry"
"Go easy on me, baby. I was still a child." — Adele, "Easy on Me"
"Let's wrap this up like Spotify."
"Gouda luck. Good pie. Pasta la vista."