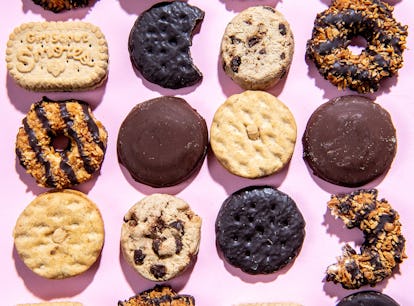 TikTok Girl Scout Cookie Recipes Including Faves Like Thin Mints & Samoas
Now every season is Girl Scout Cookie season.
Mariah Tauger/Los Angeles Times/Getty Images
Girl Scout Cookie season is about to kick into gear, which means there's no sweeter time of the year. Now is the time to stock up on Thin Mints, Tagalongs, and all the iconic cookies you love so much. You might feel like you have to get as many boxes as you can, because the season will be over before you know it. But, thanks to TikTok, when Girl Scout Cookie season comes to a close, you can still enjoy your favorite treats. That's because there are Girl Scout Cookie recipes on TikTok that taste just like the OG treats.
Become the coolest roomie by surprising everyone in the house with a batch of homemade vegan Samoa cookies or Tagalong bars for your Friday night hangout by checking out these Girl Scout Cookie recipes on TikTok, and head into the kitchen. Not only will you find perfect copycat Girl Scout Cookie recipes, but you'll also discover fun alternatives that take the flavors of your favorite cookies to a whole new level.
With these 14 Girl Scout Cookie recipes on hand, you can serve up some Thin Mints with Thin Mint-inspired drinks, or there's a recipe for Tagalong oatmeal to start your day off in a delicious way. Whatever cookies you're craving, you can count on the foodie side of TikTok to help you make a sweet treat.
This article was originally published on