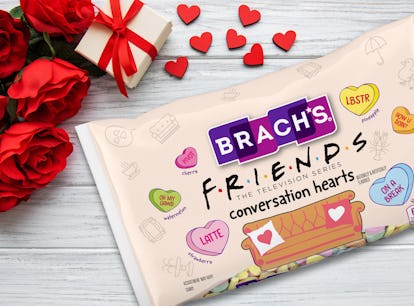 Where To Buy Brach's Friends Conversation Hearts For Your Lobster
They're perfect for Galentine's Day, too.
Courtesy of Brach's
We may receive a portion of sales if you purchase a product through a link in this article.
It looks like 2023 is shaping up to be the year of Friends. No, there isn't a reboot of the beloved '90s sitcom on the horizon, but brands like MeUndies, International Delight, and Homesick have been keeping the nostalgia alive with exciting collabs inspired by the show. The fun doesn't end there, though, because Brach's is putting a Valentine's Day twist on the show's recent resurgence with candy hearts that pay homage to the show's most iconic phrases, gags, and jokes. If you want to make Feb. 14 all about your lobster, here's where to buy Brach's Friends candy hearts.
You don't have to spend your Valentine's Day marathoning Friends to enjoy the adorably themed candy hearts (though that's not a bad idea for your next Galentine's Day party). Brach's announced the launch of the new Friends-inspired candy hearts (or conversation hearts, as the brand calls them) on Jan. 18, and every pack contains two classic conversation heart flavors, cherry and orange, as well as four brand new watermelon, strawberry, blueberry, and pineapple flavored candies for a blend that's nostalgic yet fresh — just like your annual Friends rewatch. Instead of the usual "be mine" or "xoxo" messages you typically find on candy hearts, each heart features a message inspired by some of the best quotes and moments from the TV show, including:
"Pivot"
"Oh My Gawd"
"Latte"
"LBSTER"
"How U Doin'"
"On A Break"
"Hand Twin"
"I Know"
"Off Plane"
"The 1 With"
"Couch"
Before you head out to pick up a pack for yourself, you probably should know where to look first.
Where To Buy Brach's Friends Candy Hearts
The sitcom-inspired candy hearts are available at grocery stores nationwide, as well as convenience stores like CVS and Walgreens, and major retailers like Walmart. If you can't make it to the store, the conversation hearts are available to order online through select retailers like Walmart and Amazon.
If you're in a rush to get your hands on the goodies, you can also have the sweet treats delivered directly to your door via Instacart.
Brach's Friends Candy Hearts Price
According to Brach's, the candy hearts are available for a suggested retail price of $2.29, although they may vary by location.
Though the Friends resurgence doesn't seem to be going away any time soon, the candy hearts are only available for a limited time.