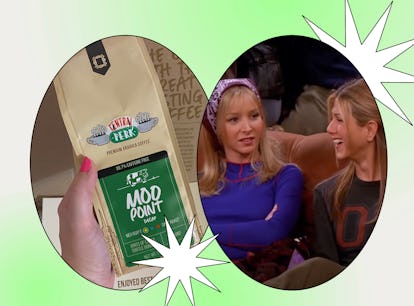 I Tried The Friends Coffee Served At Boston's Central Perk Cafe
I think I might have to pivot to the espresso blend.
Rachel Chapman/Warner Bros. Television/Elite Daily
There's no location from a sitcom more iconic than Central Perk from Friends. Sure, How I Met Your Mother had MacLaren's Pub and the Riverdale gang is often spotted at Pop's Chock'lit Shoppe, but there's just something so nostalgic about the cafe that Joey, Chandler, Ross, Monica, Phoebe and Rachel called home for 10 seasons. While there are recreations of Central Perk at the Warner Bros. Studio Tour in Hollywood and at The Friends Experience in New York, there hasn't been an actual Central Perk Coffeehouse IRL until now.
The first-ever Central Perk Coffeehouse is opening in Boston, Massachusetts later this year. This cafe will give fans the opportunity to live like the Friends crew by having a place to hang out and order a delicious cup of coffee. It's not just any coffee, though. The Boston Central Perk will have an official Central Perk Coffee on the menu, and I got to try some of the new flavors they'll be offering, like a cold brew and espresso blend. Since I'm not near Boston, this was a chance for me to imagine what it would be like drinking coffee on the infamous orange couch in Central Perk while at home.
The Friends Central Perk Coffee Review
Central Perk Coffee is actually available online right now, and includes six different blends. There is:
A "How You Doin'?" medium roast
A "Pivot Blend" medium/dark roast
A "We Were on a Coffee Break" dark roast
An "Oh.My.GAWD!" cold brew blend
A "Gunther!" espresso
A "Moo Point" decaf
The cold brew, espresso, and decaf are the three newest flavors and were sent to me for a taste test so I could experience what it would be like to visit the Central Perk Coffeehouse in Boston. The first thing I loved about each one of these coffee blends were their names. Of course, Gunther would be given the espresso blend as Central Perk's fave barista. And it only makes sense that the Moo Point would be a decaf blend since cows would agree that caffeine is just "moo point."
A funny name isn't going to wake me up in the morning, though, so I had to see if these Friends coffees were as delicious as they were charming. Out of the three, my favorite was the Gunther! espresso blend. The whole bean coffee is described as having a dark chocolate, caramel, and nutty taste with a smokey note, and I could definitely taste the smoke. This was obviously the strongest of the three, and as a coffee-lover, I liked how flavorful it was. It's definitely made for people who love a strong coffee taste and drink at least one cup every day.
The Moo Point was also good, but not as strong. It was described as having more of a subtle chocolate flavor with lemon, blackberry, and honey, but TBH, I couldn't taste any of that from my brew. It tasted like a medium brew coffee, so if you're looking for a cup any time of day, this is a solid one to go with. It's also 99.7% caffeine free, so you could even drink it at dinnertime and not have to worry about staying up late.
The Oh.My.GAWD! cold brew was the least flavorful for me, but that could also be based on how long I brewed it. I steeped mine for about 12 hours, and it had a very light coffee flavor. I actually tried brewing it in my coffee maker as well to see if there was a difference, and that was also pretty subtle. If you like a strong cold brew, I would recommend trying to steep for a few more hours. However, I didn't really mind the light flavor. It actually was pretty refreshing for the summertime. I added a homemade cold foam on top, and felt like a real Central Perk barista. While I don't think I'm as good as Gunther, I can confidently say I'm better than Rachel.
Taste testing these different Central Perk coffees only made me more excited about one day visiting the cafe in Boston, which will be located at 205 Newbury Street. The Central Perk Coffeehouse is going to have a "remarkable menu to complement" the Friends-themed coffee, which makes me wonder if they'll have the English trifle that Rachel makes for Thanksgiving — minus the meat — or Phoebe's secret family Nestle Toulouse chocolate chip cookies to order. If you're into a complicated coffee, you could even ask for a "half-caf, double-tall, easy hazelnut, nonfat, no foam, with whip, extra-hot latte" as you listen to "Smelly Cat." That would be the perfect Central Perk day.