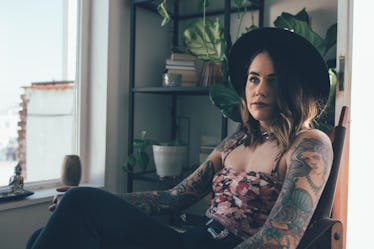 65 Friday The 13th Quotes For Insta Captions That Are Eerily Good
My girl, Wednesday Addams, was born on Friday the 13th.
wundervisuals/E+/Getty Images
Unless you're looking ahead on the calendar, you never know when Friday the 13th will creep up on you. Many people have mixed feelings about this specific date and view it as an unlucky day, especially if they're superstitious. However, if you're someone who fully embraces the day's spooky vibes with open arms, you'll need a few Friday the 13th Instagram quotes to caption all your hauntingly wonderful snaps.
Friday the 13th doesn't happen too often, so when it does, you don't want to skip out on celebrating the eerie vibes of the day. It's the perfect opportunity to invite your BFF over for a horror movie marathon or enjoy a backyard bonfire under the moon. You can also dress up in your witchy best with a smokey eye makeup lewk that must be shown off on the 'Gram with positive Friday the 13th quotes or Friday the 13th captions. If you've got a super daring crew, you could even book an overnighter at a haunted Airbnb. Just don't forget to bring your tarot cards to get a clear reading of what's to come along with some cute Friday the 13th quotes. Even funny Friday the 13th captions can help you get through the night if you're a little scared by making you LOL as you post your silly selfies and candid snaps.
Whatever your plans may be for this special occasion, you need some spook-tacular Friday the 13th quotes to use as Instagram captions when you decide to post. If you plan on keeping yourself busy by dancing in the moonlight with your besties or hiding under the covers watching a movie with your partner, these funny Friday the 13th quotes and sayings will help to capture your feelings of living in the moment. However, if you're planning on keeping it low-key, Friday the 13th puns can turn your basic snaps into festive posts with barely any effort as well.
Another option is to use any Friday the 13th quotes and sayings to wish your friends and followers a Happy Friday the 13th. Wednesday Addams was born on Friday the 13th, so you could even use some of your favorite Wednesday quotes and channel her morbid wit and deadpan attitude. Ultimately, these positive happy Friday the 13th quotes will work for any cute OOTD pics or makeup selfies you want to post on days that just so happen to land on Friday the 13th.
"Friday the 13th is still better than Monday, the whatever."
"Forget the bad luck. I'm choosing to have a great day."
"If you think Friday the 13th is scary, try going a day without coffee. It's horrifying."
"I'm every nightmare you ever had! I am your worst dream come true! I'm everything you ever were afraid of!" — It
"Very superstitious, writings on the wall. Very superstitious, ladders 'bout to fall." — Stevie Wonder, "Superstition"
"It may be Friday the 13th, but it is still Friday and a reason to dance."
"I'm not superstitious, but I am a little stitious." — Michael Scott, The Office
"A black cat crossing your path signifies that the animal is going somewhere." — Groucho Marx
"You see better when you're scared."
"Felt scared, might go hide until it's Saturday the 14th."
"Today is a great day to be late, because you always can just blame the date."
"The 'L' in my luck has been replaced with an 'F'."
"Too cute to spook."
"Something wicked this way comes." — William Shakespeare, Macbeth
"Turn on the light before entering any room."
"Feeling lucky?"
"It's Friday the 13th, witches."
"I'm just happy it's finally Friday."
"Hoping my normal bad luck and today's bad luck cancel each other out so I'm the luckiest girl in the world."
"I'm not superstitious. I'm a witch. Witches aren't superstitious. We are what people are superstitious of." — Terry Pratchett, Wintersmith
"Your bad luck will make for a great story tomorrow."
"Spook mode: On."
"Feelin' spooky."
"It's Friday, I'm in love." — The Cure, "Friday I'm in Love"
"The only thing we have to fear is fear itself." — Franklin D. Roosevelt
"You're doomed! You're all doomed!" — Friday the 13th
"It's Friday, Friday. Gotta get down on Friday." — Rebecca Black, "Friday"
"I hope you have a killer day."
"Today will only be as bad as you want it to be."
"Get in, loser. We're going haunting."
"It's Friday the 13th, so sorry if I'm a haunt mess."
"Hanging with my ghouls on Friday the 13th."
"If you see any ladders, mirrors, and black cats today, run away."
"Have a bloody good Friday the 13th."
"But... then he's still there." — Friday the 13th
"It's Fri-die!"
"I just took a DNA test, turns out I'm 100% that witch."
"Feeling like a basic witch on Friday the 13th."
"I hope your Friday the 13th is hex-tra special."
"Just don't go to Camp Crystal Lake and you'll be fine today."
"Well, I was never in luck's way long." — Sir Arthur Conan Doyle
"If you need a reason to get out of something today, just tell them it's Friday the 13th."
"Happy Friday the 13th. May luck be on your side."
"I'm going to stay away from remote cabins today."
"May the odds be ever in your favor." — The Hunger Games
"Black cats need love too."
"Oh look, another glorious morning… makes me sick." — Winifred Sanderson, Hocus Pocus
"I've seen enough movies to know I'm avoiding anyone named Jason today."
"How can I be unlucky when I look this good?"
"Squad ghouls on Friday the 13th."
"Channeling my lucky girl syndrom today."
"At least it's not Monday."
"I'm not interested in participating in tribal adolescent clichés." — Wednesday Addams, Wednesday
"Friday night beneath the stars in a field behind your yard." — Taylor Swift, "I'm Only Me When I'm With You"
"Every time I've won an award I've been seated in either the 13th seat, the 13th row, the 13th section or row M, which is the 13th letter." — Taylor Swift
"If Taylor Swift loves the number 13, I also love the number 13."
"Basically whenever a 13 comes up in my life, it's a good thing." — Taylor Swift
"I find social media to be a soul-sucking void of meaningless affirmation." — Wednesday Addams, Wednesday
"I act as if I don't care if people dislike me. Deep down… I secretly enjoy it." — Wednesday Addams, Wednesday
"When the sun goes down and the moon comes up, I turn into a teenage goo goo muck." — The Cramps, "Good Goo Muck"
"I'll dance, dance, dance with my hands, hands, hands above my head, head, head." — Lady Gaga, "Bloody Mary"
"Voorhees a jolly good fellow. Voorhees a jolly good fellow."
"I'm sorry but the old [your name] can't come to the phone right now. Why? Oh, 'cause she's dead." — Taylor Swift, "Look What You Made Me Do"
"I don't care if it's Friday the 13th. I'm just happy it's Friday."
"I'm totally killing it this Friday the 13th."
This article was originally published on