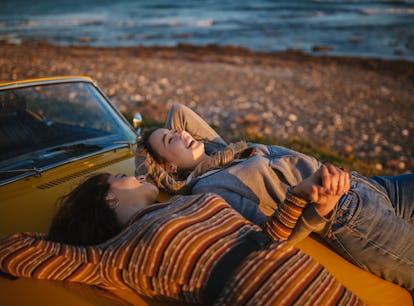 Your Friday The 13th January 2023 Horoscope Is Liberating
Gather your best witches!
wundervisuals/E+/Getty Images
Feeling superstitious? Don't start worrying yet. Despite the notorious negativity surrounding this day, your Friday the 13th January 2023 horoscope is swirling with possibility. Keep an eye out for opportunities to connect with likeminded individuals who share similar interests, hopes and future visions.
It's no secret that some people will do everything in their power to steer away from the number 13. According to History.com, approximately 10% of people in the U.S. has a fear of the number 13, and more specifically, the fear of Friday the 13th — also known as paraskevidekatriaphobia.
However, astrologically, Friday is actually Venus-day, which is the day of the Goddess. In addition to being the archetypal embodiment of love and beauty, Venus is also a symbol of the divine feminine. What's more, the number 13 is sacred as it corresponds to the 13 yearly moon and menstrual cycles.
On this day, the energies will be equally as Venusian — charming, amicable, relatable and aesthetically pleasing — given the harmonious alignment between the moon in Libra, while its ruler, Venus, glimmers through socially conscious Aquarius. This is ideal for friendship and camaraderie, whether it be in-person or via social media.
And after two months retrograde in Gemini, Mars will be putting a pep in your step as it ends its retrograde and moves direct, bringing what was once pending back to speed. As for Venus, it will be approaching a square to freedom-loving Uranus, adding a layer of eccentricity and surprise to the mix.
Here's what Friday the 13th has in store for you, according to your zodiac sign:
Aries (March 21 - April 19)
Your celestial ruler, Mars, is back to basics in Gemini, energizing your local environment and immediate exchanges. There's more: The moon will be transiting through Libra, bringing emotional emphasis to your one-on-one relationships, all while harmonizing with Venus in Aquarius via your 11th house of friendship and community affairs. Harness the magic of your social surroundings today, Aries.
Taurus (April 20 - May 20)
You're feeling yourself again, and it's all thanks to Mars direct via your second house of self-confidence. The best part? You're also thriving in the workplace, as the moon will connect with your celestial ruler, Venus, via your 10th house of public persona and reputation in the world. What are you manifesting in terms of career? Who can you collaborate with?
Gemini (May 21 - June 20)
Move over, world. Mars is direct in your sign, and there's no getting in your way. Don't be afraid to hog the spotlight, Gemini. The moon will be glimmering through your celebratory fifth house of fame, passion projects and unique self-expression, all while forming a sweet trine to Venus in Aquarius via your ninth house of spontaneity and world vistas. Tap into your creative musings today.
Cancer (June 21 - July 22)
A solid collaboration is headed your way, whether you look at it in terms of love and romance, or with regards to your career and reputation. Follow your intuition today, as the Libra moon ignites your emotionally driven fourth house of innermost feelings, all while harmonizing with Venus via your eighth house of joint ventures. Exchanges are complimentary and valuable.
Leo (July 23 - Aug. 22)
Getting together with loved ones is where your happiness lies today, and Mars direct in Gemini is all the more reason to make it happen. After all, the lackluster energy you might've felt in your social life is finally dissipating, and the moon's transit through Libra is sweetening things up in your immediate environment. Crushing on someone? Luna will be dancing with Venus in your relationship sector, so never say never.
Virgo (Aug. 23 - Sept. 21)
Your monetizing abilities are being highlighted today, so don't hesitate to take the necessary risks; you are more valuable than you realize. In addition to Mars being direct in your public 10th house of notoriety, the moon will be shaking up your stability-seeking second house of finances, all while harmonizing with Venus in a sweet trine. The more you allow yourself to have fun, the more likely you are to thrive, personally and financially.
Libra (Sept. 21 - Oct. 22)
Wearing your heart on your sleeve is the new black, and you're making it all look effortless. It's all about the moon's journey through your sign, and its sparkling trine to your celestial ruler, Venus, via your fifth house of love, passion and self-expression. You're not only self-aware, but also amicable and relatable to the rest.
Scorpio (Oct. 23 - Nov. 21)
Manifesting something behind the scenes, Scorpio? Whether it be personally or professionally speaking, the moon's journey through your secretive 12th house of healing — not to mention Mars finally direct via your eighth house of intimate unions — is bringing you inward, and clarifying your relationship goals and dreams. Venus is also warming your sacred space while trining the moon, so make yourself at home.
Sagittarius (Nov. 22 - Dec. 20)
Getting together with your best pals never felt so good. Mars is finally direct in your relationship sector, which brings you back to speed in terms of your one-on-one connections. However, the moon's journey through Libra lights up your socially conscious 11th house of community affairs, and Luna will simultaneously connect with Venus, adding a layer of charm to your atmosphere. Don't forget to RSVP.
Capricorn (Dec. 21 - Jan. 19)
Step into your power, and show the world what you're really made of. With the moon glimmering through your 10th house of reputation while harmonizing with Venus via your second house of self-worth, you're equally as sophisticated as you are ingenious to the rest of the world. How can you integrate this dazzling charisma with your productivity levels?
Aquarius (Jan. 20 - Feb. 18)
Looks like you got your mojo back, as Mars finally stationed direct in Gemini, bringing energy and momentum to your fifth house of passion projects and self-expression. In the meantime, however, the moon will be lighting up your ninth house of adventures and spontaneity, which will likely inspire you to venture into the unknown. Luna will also be dancing with Venus in your sign, emphasizing your charm and wit.
Pisces (Feb. 19 - March 20)
Feeling intuitively drawn to an investment? This could be professionally or romantically speaking, but the moon's journey through Libra and your intimate eighth house of mergers is bringing emphasis to your committed exchanges. This energy will be complimented by Venus in your second house of values, finances and self-confidence, so follow your inner guide and do whatever's best for your sense of security.