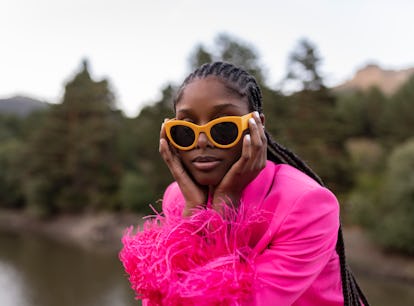 Your February 2023 Monthly Horoscope Is About New Paths
Step into a new vibration.
Westend61/Westend61/Getty Images
Say hello to the *new* you, stargazers. The beginning of a the year is always a treat, because it provides us with a clean slate, and your February 2023 horoscope is no exception. After getting down to business in January, the cosmos is supporting us all as we step into this brand new dimension of reality.
Being honest with yourself is a big deal this month, especially when considering the sun's electric square to Uranus on Feb. 3. The sun will be transiting through the socially conscious sign of Aquarius, representing everything from our community affairs to our sense of belonging in the world. Challenged by this sign's modern ruler, Uranus, this could bring some spontaneous and unexpected shake-ups, mainly around the stability of our social networks. And for some, plans around a future goal.
The next day on Feb. 4, the Lovers of the cosmos (Mars and Venus) will go head-to-head in a perplexing square. Mars in Gemini is driven by facts and data, while Venus in Pisces prefers to surrender to the fantasy of it all. This goes hand-in-hand with the sun-Uranus square (because Venus is fueling Uranus) so these changes could seem ambiguous and confusing at first. But just in time for this month's full moon in Leo on Feb. 5, we have the opportunity to reconnect with our inner child, and step into our authenticity in the process.
Before Mercury enters Aquarius on Feb. 11 — bringing logic, objectivity, and progression to our thought process — it will join Pluto in Capricorn on Feb. 10. This is always a revelatory transit, if not ruthlessly direct with its delivery. Significant information could be unveiled during this time. Then, on Feb. 16, the sun will join forces with Saturn in Aquarius for the last time before the taskmaster planet enters Pisces in March.
I'm not going to lie, this could feel difficult or burdensome, because walking away from something (like a structure, community, old ways) isn't for the faint of heart. As for Pisces season, it really couldn't come soon enough. The sun's entrance into this mutable water sign on Feb. 18 will not only heighten our emotional waves, but also encourage us to surrender what no longer serves us in the process.
Here's what you can expect this month, according to your sun and rising sign:
Aries February 2023 Monthly Horoscope
As you continue stepping into your highest truth and new reality, you'll likely come to terms with societal groups and community affairs you've outgrown. This could seem surprising at first, but if it's not a group of friends that no longer make you feel secure, it could be a personal or professional goal you're not in alignment with.
Don't let the contradicting influence of Mars square Venus discourage you from moving forward: The facts surrounding a situation still won't take away from your unconditional love, whether it be for a significant other or yourself. Sometimes choosing self-love means radical self-acceptance, and this month's full moon in Leo is supporting you every step of the way.
Taurus February 2023 Monthly Horoscope
People's opinions of you are none of your concern, and you're finally choosing your freedom in February. Stepping into your highest self brings you closer to your soul family, and your truest sense of belonging in the world. You may have been attached to a specific goal or group of peers you no longer vibe with, but with the help of your planetary ruler, Venus, you're a magnet for opportunity.
If you're suddenly overthinking things during the Venus square Mars transit, it's important to lean on your longterm goals and manifestations, even if you don't yet have all the facts. Don't undermine the bigger picture, especially when considering this month's full moon in Leo. A full-circle moment surrounding your personal and professional foundation is afoot. The truth is your compass, so pay attention to the insight you receive.
Gemini February 2023 Monthly Horoscope
Your duality is your superpower, but some of the energies at play seem to be out of your control. If you're feeling torn between two worlds during February's sun-Uranus square, it's likely due to a combination of your desire for freedom versus your philosophy on community and friendship. This probably revolves around work, considering the Venus-Mars square, but there's no need to overthink.
Mars is making you more objective and logical with your approach, but Venus' journey through Pisces and your career sector softens your approach and heightens your sense of compassion and empathy. Be honest with yourself and your peers. This new work venture will likely require some fine-tuning, specifically when it comes to shared finances and contractual agreements, and this could come up during Mercury's conjunction with Pluto mid-month. Pisces season will turn over a new leaf in your professional life.
Cancer February 2023 Monthly Horoscope
There's a fine line between remaining true to your authentic self, and your commitment to a particular community or goal. You could experience friction during February's sun-Uranus square, but this push and pull is here to liberate you from structures and beliefs that have been keeping your stagnant. Similarly, when Mars square off with Venus, you could be feeling torn between the desire to keep things private versus surrendering to new beginnings ahead of you.
You can't go wrong with the truth, and Mercury's close proximity to revelatory Pluto on Feb. 10 could bring profound insight — or trigger an important conversation that unveils what's been lingering beneath the surface. The sun will eventually conjunct Saturn in Aquarius (for the last time before entering Pisces) which, in turn, challenges you to make a pivotal decision, and perhaps let go of an old way of being. Your level-up is here... and no one said it was going to be easy.
Leo February 2023 Monthly Horoscope
Your desire for authority and rebellion could easily get in the way of your relationships, and this energy will be especially prominent throughout the month of February. Your celestial ruler, the sun, will go head-to-head with erratic Uranus, which is where a battle of wills could interrupt your flow. Finding balance between your personal identity and desires is key, especially if you're contemplating a professional decision, or regarding your sense of authority.
The moon will reach its peak of fullness in your sign on Feb. 5, adding to the emotional intensity and culmination that's occurring for you at this time. Are you ready to take that long-awaited leap of faith? Boundaries are essential to the stability of your unions, and the sun's final conjunction with Saturn is presenting you with a final challenge. How serious are you about this partnership? Is it worth the risk?
Virgo February 2023 Monthly Horoscope
The structure of your daily routine could be challenged by your desire for freedom and novelty. This, however, is no reason to need to be discouraged, as this divine intervention (sun square Uranus) is here to bring you into alignment. The same goes for February's Mars-Venus square, as you could be torn between the logistics surrounding a career venture, and the compassion you have for a significant partnership.
As for this month's full moon, it will light up your 12th house of secrets, inhibitions and unconscious patterns, which is where you're not only healing and finding closure, but also forgiving yourself in the process. Significant information surrounding your romantic desires or unique talents could suddenly surface, and perhaps challenge you to make a head-over-heart decision. The truth will set you free, and the sun's last conjunction with Saturn is urging you to choose what's right for you in the longterm.
Libra February 2023 Monthly Horoscope
Sudden shakeups in your intimate unions and joint ventures could've recently caught you off guard, but the sun in freedom-loving Aquarius is inspiring and motivating you to embrace your inner genius. Though the influence of Mars square Venus is bound to create friction between your day-to-day reality and your belief systems, it's essential for you to honor the flow of your own divinity.
Your sense of belonging in the world is a reflection of your colorful authenticity, and February's full moon in Leo is bringing closure and clarity, whether it be a longterm goal or a particular friendship group you're ready to collaborate with. Mercury's close proximity to Pluto brings intensity and revelatory information, perhaps when it comes to matters of home and family. Reflect on the boundaries that need to be set, and let this be a muse for your life's structure.
Scorpio February 2023 Monthly Horoscope
Things now aren't so much about the structure and traditions, but about your soul progress instead. February's spontaneous sun-Uranus square is not for the faint of heart, but the friction between your unconventional relationships and your desire for something solid will soon be resolved. This is where this month's full moon in Leo comes to play, as it will bring emotional culmination, perhaps with regards to your career and sense of authority.
Mercury will join forces with your modern ruler, Pluto, towards the middle of the month, bringing intensity and catharsis to your communication sector — which will likely stem from an important information you're suddenly receiving. This will be one of those months where you're being lead to follow your heart, despite the odds. And with the sun entering Pisces soon after, there's no better time to do so.
Sagittarius February 2023 Monthly Horoscope
The structure of your immediate surroundings could be under the influence of your erratic day-to-day routine, and February's sun-Uranus square has everything to do with it. The same goes for your mindfulness and communication style. That said, it's important to remain grounded, as you might feel like you're being pulled from two opposite directions.
Similarly, Mars' square to Venus could be creating friction between your compassion for family members versus the facts around a significant partnership. If there's manipulation and deception stemming from your close relatives, or perhaps a lack of boundaries, this could be an energy of concern in February. The full moon brings clarity to your sense of direction.
Capricorn February 2023 Monthly Horoscope
Unexpected expenses could be taking you off path, specifically around finances. Or, you may experience indecision between your unconventional delights versus the structure of your value systems. Either way, you're stepping into a new reality in February, and will more than likely be called to follow your intuition. Leaning on your peers could also seem burdensome to your current routines (thanks to Venus' square to Mars), but balance is key.
If there's something important you need to get off your chest, Mercury's close proximity to shadowy Pluto in your sign will help you be direct with communication, perhaps even to a fault. Meanwhile, the sun will be making its final conjunction to your taskmaster ruler, Saturn, in Aquarius mid-month, challenging you to level up and commit to a plan of self-mastery. You're worth it, Capricorn.
Aquarius February 2023 Monthly Horoscope
Happy birthday, Aquarius. Your solar season brings emphasis to everything from your sense of belonging in the world to the foundation of your identity. And while there are a few challenges to tackle — starting with the sun's square to Uranus — standing in your truth, and welcoming in change is key. If you're struggling between a sense of self-love versus the facts surrounding a romantic connection, take a step back to get centered.
You're doing a lot of thinking and reflecting in the month of February, and significant revelations could suddenly surface while Mercury joins forces with Pluto. This, of course, goes hand in hand with the sun's final meet-up with Saturn in your sign mid-month, as you are stepping into your highest vibration and letting go of old ways in the process. Getting in alignment with your own self-mastery is not easy, but you've made it this far.
Pisces February 2023 Monthly Horoscope
Leave the past where it belongs, but don't lose sight of the way these energies and experiences influenced the person you are today. The sun's erratic square to Uranus could create friction between your unconscious patterns of self-sabotage versus the revolution you're experiencing mentally, and with regards to your immediate surroundings. How have you been inhibiting yourself from your personal freedom?
These subliminal blockages could be about your sense of belonging in the world, or perhaps a community you're no longer resonating with. If it's home and family, Venus' square to Mars could challenge you to make a head-over-heart decision. A full-circle moment is afoot, specifically when it comes to your day-to-day routines, acts of service and general mindfulness. Get clear on what it is you want moving forward, so you can manifest it during your solar season.