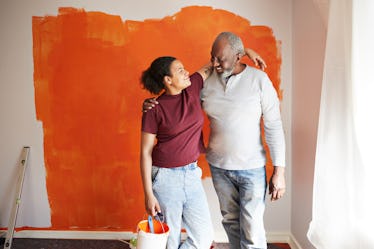 33 Sweet Captions That'll Make Your Dad Smile This Father's Day
Behind every great dad is a great kid. That's you.
Klaus Vedfelt/Getty Images
Since most families were unable to celebrate Father's Day last year the way they traditionally do, this year's celebrations are sure to be epic. You'll take any excuse to show off how much you love your dad or the father figure in your life, and Instagram is the prime place to do it. Scrolling through your camera roll and deciding on the right pic to post is the hardest part, so make captioning it that much easier with some of these cute Father's Day 2021 Instagram captions.
You could go on and on about how much your dad means to you. However, your friends will be scrolling through tons of Father's Day pics on their feed and won't have time to read them all. It's better to go with something sweet and to the point. After all, your pictures will do a great job for you at showing off how cool your dad is. Instead, all you need to do is use one of these 33 Father's Day captions for 2021 that perfectly sum up how you're feeling about your pops. It's quick, easy, and takes less time, so you have more time to celebrate with your dad on his big day.
"To the world, you're a dad. To our family, you're the world."
"Ain't no daddy like my daddy."
"Well done, Dad. I'm awesome."
"Making up for lost time by having the best time."
"My father didn't tell me how to live. He lived, and let me watch him do it." — Clarence Budington Kelland
"I know you were on my side, even when I was wrong." — Taylor Swift, "The Best Day"
"'Cause I'd love to dance with my father again." — Luther Vandross, "Dance With My Father"
"Behind every great dad is a great kid. That's me."
"I don't need a Marvel superhero. I've got my dad."
"I'm as lucky as can be, because the world's great dad belongs to me."
"You'll always be my father, and I'll always be your joy." — Chrisette Michele, "Your Joy"
"Don't tell him I said this, but my dad was right about everything."
"Thanks for being a better dad than Darth Vader."
"Dad, you are one of my favorite parents."
"I know that if dad can't fix it, we're all screwed."
"Happy Father's Day to my favorite moviegoing partner."
"You'll always be the person I look up to no matter how tall I get."
"Things I'll always be grateful for: You."
"Your dad yolks always crack me up."
"I mustache you if you're having a good Father's Day."
"Without me, this day wouldn't mean much. You're welcome."
"It's weird that all these other people think they have the best dad when I clearly do."
"You're both my best friend and my dad. You're an overachiever."
"My dad gives the best hugs."
"Ladies and gentlemen, the king of 'I told you so.'"
"You did a grape job raisin me."
"I'm so proud to be y'orchid."
"You taught me that if at first I don't succeed, call Mom."
"Dad, I love you bear-y much."
"Some people don't believe in heroes, but they haven't met my dad."
"My dad has loved me my whole life, and honestly, same."
"You are, hands down, my favorite person."
"I know this sounds corny, but you're an a-maize-ing dad."