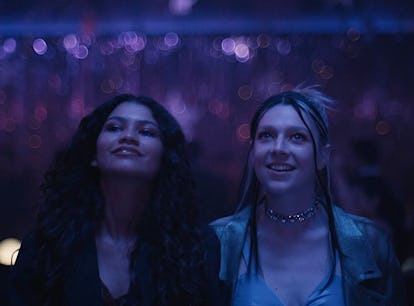 10 Euphoria-Themed Prom Decorations That Capture The Show's Aesthetic
It's all about the neon and glitter vibes.
HBO
Season 2 of Euphoria may be over, but that doesn't mean we still can't revel in the aesthetic perfection that is HBO's hit drama. Between the neon lights and ethereal scenery, it only makes sense that you'd want to emulate those vibes with some prom decorations inspired by Euphoria. Honestly, there are so many options to make your Euphoria-themed prom a reality, and a lot of them really affordable or simple to make yourself.
Let's break down the Euphoria aesthetic: when Rue and Jules hit a party, the background tends to be dark and dreamy, with plenty of neon lights to cast a glow over the scene. There's also usually a celestial vibe, with metallic streamers, silver stars, and more body glitter than anyone knows what to do with. Truly, all you need for your Euphoria-inspired prom is some glitter, sparkle, and a whole lot of gem-toned decorations. With a little creativity, that can definitely be done.
If you're looking for some ideas to make your prom just like a holographic dream in Euphoria, look no further. Take a note of these Euphoria prom theme decorations, and run them by your crew to see if you can make it happen. Then, it's time to get to planning so you can create a night you'll never forget.