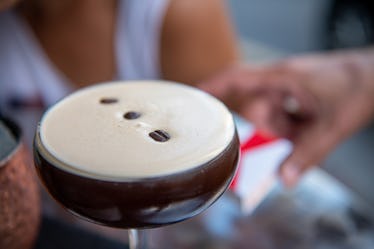 40 Espresso Martini Captions For Instagram That Espresso Just How You're Coffeeling
But first, espresso martinis.
Ernesto r. Ageitos/Moment/Getty Images
It seems espresso martinis are having a moment right now with the coffee cocktail showing up all over your TikTok FYP and Instagram feed. For someone who lives by the "but first, coffee" motto in life, an espresso martini really stands out on a cocktail menu and is something you may want to mix up at home. For when you're finally able to sip on an espresso martini for yourself, you'll also want to have some espresso martini captions ready to go for Instagram snaps or your aesthetic TikTok videos.
Let's face it, martinis are a very camera-ready beverage and are cute for sippin' selfies. You'll definitely feel the urge to snap a few pictures when you have an espresso martini in front of you, and having these coffee puns and espresso martini quotes ready to go will make posting even easier. You may even want to serve some espresso martinis at your bestie brunch at home instead of mimosas or iced coffees. If you do decide to mix up your own espresso martinis, you could even shoot your own TikTok video sharing your recipe with your followers. That's another moment when these 40 espresso martini captions will come in clutch.
Don't forget to make your drink extra Insta-worthy by adding some chocolate covered espresso beans to the top or giving your glass a picture-perfect sugar and coffee ground rim. Going that extra step will make your followers want to like your picture even more.
"Espresso martinis, because no one should have to choose between coffee and alcohol at the moment."
"I have coffeelings about espresso martinis."
"I've bean meaning to drink more espresso martinis."
"I can't espresso how much I love this martini."
"On Fridays, I prefer my espressos in a martini."
"When it's too late for a latte, order an espresso martini."
"This martini will really wake you up."
"This espresso martini mochas me so happy."
"Do you get deja brew?"
"It's always better latte than never."
"My espresso martini is brew-tiful."
"Sorry I was latte, I needed an espresso martini."
"Where have you bean all my life?"
"It's not hard for me to espresso my feelings about this martini."
"Sending you a whole latte love."
"This espresso martini is the perfect blend of two of my favorite things — coffee and alcohol."
"We're meant to bean together."
"This espresso martini is really keeping me grounded."
"Thanks a latte for spending time with me."
"I can't be depresso with an espresso martini."
"I took this picture espresso-ly for you."
"Everything I brew, I brew it for you."
"Hot me with your best shot." — Pat Benatar, "Hit Me With Your Best Shot"
"Wake me up before you cocoa."
"That thing you brew!"
"Wake up, wake up on a Saturday night." — Hilary Duff, "Wake Up"
"It's time to rise and grind."
"Espresso martinis may not be the answer, but they're worth a shot."
"It's beginning to look a lot like cocktails."
"Alcohol you later. I'm too busy enjoying espresso martinis right now."
"Sip happens."
"I'm not throwing away my shot." —Hamilton, "My Shot"
"Sip, sip hooray."
"Martinis are the only American invention as perfect as a sonnet." — H. L. Mencken
"An espresso martini. Shaken, not stirred."
"I never go jogging. It makes me spill my martini." — George Burns
"Stay grounded, give warmth, and share a latte love."
"Every latte thing is gonna bean alright."
"It's a brewtiful day to have a martini."
"Just brew it."