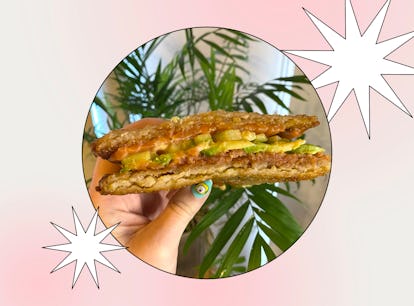 I Tried Erewhon's Viral Sushi Sandwich With Crunchy Rice Buns
Is the $21 sandwich actually worth the hype?
Rachel Chapman/Elite Daily
Erewhon might be known for its expensive celebrity smoothies, but it's also a supermarket chain that offers more than just drinks. They also offer ready-to-eat meals, including a new viral sushi sandwich that influencers like Alix Earle and Jake Shane — aka @octopusslover8 — just tried. Since I have been craving sushi as of late, I decided to try Erewhon's viral sushi sandwich for myself and review if it's actually worth the $21 price tag.
If you're gagged by the thought of a $21 sandwich, you have to remember this is the grocery store where a smoothie is $19 and a package of organic blueberries will set you back $10. Things aren't cheap at Erewhon, so you have to set your price standards high. This is also why it's important to know what's actually worth a bougie splurge.
Living in Los Angeles, I've had a sushi burrito before a handful of times, and a sushi sandwich didn't sound that different. However, the Erewhon sushi sandwich isn't made with bread. Instead, the organic avocado, cucumber, wild tuna, wild salmon, real crab, vegenaise, spicy sauce, and teriyaki sauce are all held together by two slices of crunchy rice. I thought that was unique and added an extra bit of Insta-worthiness to the sushi sandwich. Of course, looks aren't everything, but after seeing that Earle was left speechless after trying the viral sandwich, I had to put the $21 sushi sandwich to the (taste) test.
Erewhon's Sushi Sandwich Review
The first thing I noticed about the sushi sandwich was the crunchy rice that almost resembled the KFC Double Down sandwich, which uses chicken fillets as the bread. As unique as the crunchy rice is, it isn't great at soaking up any sauce in the sandwich. Bread may be boring at times, but it serves its purpose and often keeps your hands dry as you're eating. This is not the case with the sushi sandwich, so just remember to grab extra napkins.
While it made eating a little messy, the crunchy rice definitely had main character energy as the most exciting and tastiest part of the sandwich. It obviously added a necessary crunch, but also a nice fried flavor as well. However, if I was rating the overall sushi taste in comparison to all the sushi rolls I've had before, I wouldn't say it's the best. In fact, I wish the sandwich had a little more flavor inside with the teriyaki and spicy sauces. I would have loved if the vegenaise could have been a spicy vegenaise to add something extra to the sandwich.
However, once I added the pickled ginger that comes on the side and dipped it into the soy sauce, I loved every bite. I wasn't left shaking like Shane, who claimed, "It's that good." My reaction was more like Earle's, who couldn't wait to take a second bite and only managed to get out a "wow" in between. I was pleasantly surprised.
It was also filling, which might make the price worth it for some people. If you consider a speciality roll at a high-end sushi restaurant might set you back $12 to $16, a sandwich for $21 isn't that much more. Overall, I think if you want to try something from Erewhon, the sushi sandwich is definitely worth the splurge. Now, I'm just patiently waiting for an Alix Earle Erewhon smoothie collab to go along with it.