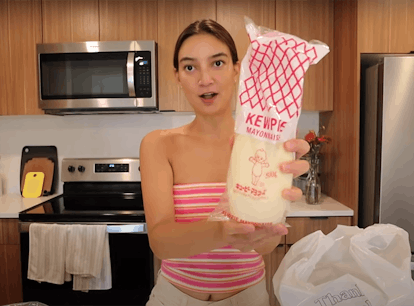 5 More Emily Mariko Kewpie Mayo Recipes To Try After TikTok's Viral Salmon Rice Bowl
Mayo the deliciousness be with you.
By now, you've definitely heard of Emily Mariko's salmon rice bowl recipe. The TikToker's simple recipe for leftover rice and salmon has everyone on the FYP talking. While most people are still baffled by how the single ice cube used to steam the rice in the microwave never seems to melt, many other people have now shifted their focus to the Kewpie mayo Mariko uses instead. It turns out it's not just the salmon rice bowl that uses this delicious ingredient. There are plenty more Emily Mariko Kewpie mayo recipes, which prove that this tasty topping is a must you need to grab during your next grocery store run.
If you've never heard of this specific mayonnaise brand before, you might be wondering what is Kewpie mayo and if you can find it in your local grocery store. Well, Kewpie mayo is actually a Japanese mayo, which is made slightly different than the Americanized version you're used to. The main difference between the two is the Kewpie mayo recipe uses only egg yolk rather than whole eggs. It's also packaged in a slim, easy-to-squeeze bottle with the adorable Kewpie baby on the front.
Kewpie mayo is a go-to topping for traditional Japanese dishes like takoyaki, okonomiyaki, and of course, sushi. You can pretty much use it wherever you'd use your regular mayonnaise, though. You may even find you prefer Japanese mayo for your turkey sandwiches, hamburgers, or even elote. To decide if you like it, try any of these five Emily Mariko (@emilymariko) Kewpie mayo recipes on TikTok.
Of course, you also have to try Mariko's salmon rice bowl recipe if you haven't already. After heating up your salmon and rice, top with soy sauce, Sriracha, and the Kewpie mayo, which is sure to be a must-have staple in your home in no time.