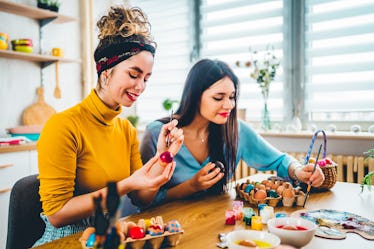 10 Unique Easter Egg Coloring Ideas And Designs Inspired By TikTok To Try
These creative methods are truly *eggs-quisite.*
LordHenriVoton/E+/Getty Images
Dyeing Easter eggs is one holiday tradition you'll never grow out of. It's so fun letting your creative side take over as you create colorful Easter eggs at home. However, using dye kits from the store isn't the only way you can color Easter eggs. In fact, there are tons of unique Easter egg coloring and designs inspired by TikTok videos that you can follow.
From whipped cream to tissue paper, there are so many different egg dyeing methods out there. You can also step up your Easter egg coloring skills by following different Easter egg designs you see on the FYP. While dyed Easter eggs with food coloring may be your usual go-to, you may want to try decorating Easter eggs with some rice or colored markers with plastic bags this year. You could even scroll through these Easter egg ideas for inspiration on new patterns and stencils.
Whatever the method you choose, plan an Easter egg dyeing afternoon with your besties or roommates where you design some Insta-worthy Easter eggs. While snacking on your candy, you'll have fun coloring your eggs and experimenting with these 10 Easter egg ideas. It'll be a truly egg-cellent time.