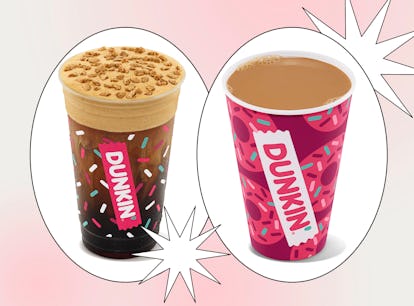 Dunkin's 2023 Holiday Drinks Include A New Spiced Cookie Coffee
Cookie Butter Cold Brew fans, ready your wallets.
Now that Halloween is in the rearview mirror, it's time to break out the gingerbread houses and twinkling string lights for the holiday season. To really activate the spirit from within, you need a festive latte or cold brew to get you in the mood. Luckily, Dunkin's 2023 holiday menu is officially here with returning fan-favorites like the viral Cookie Butter Cold Brew, as well as new seasonal sips that might be even better.
In addition to the fan-fave Cookie Butter Cold Brew, holiday drinks that are returning to Dunkin' this year like the ghost of Christmas past include the Peppermint Mocha Signature Latte and Toasted White Chocolate Signature Latte. You'll also find the delectable Triple Chocolate Muffin for those days when you're not in a doughnut mood but still want to treat yourself. For a more savory snack to go with your sweet coffee drink, Dunkin's holiday menu also has new Loaded Hashbrowns that is cheesy, bacon-y goodness — and I wouldn't be upset if it decided to stick around for 2024. Of course, the most exciting thing to come to Dunkin' this year is the all-new Spiced Cookie Coffee that I just had to try for myself.
As someone who's already consulted with her friend group if it's too soon to start watching Christmas rom-coms (spoiler alert: it's not), I'm officially in countdown to holiday mode and to celebrate, I ordered the Spiced Cookie Coffee to see if it's as good (or better) than the Cookie Butter Cold Brew.
The Spiced Cookie Coffee Is My New Fave Holiday Drink From Dunkin'
The Cookie Butter Cold Brew with Cookie Butter Cold Foam, Brown Sugar Cookie Swirl, and Cookie Butter Topping may have been the surprise hit of last year's Dunkin' holiday menu, but I believe the Spiced Cookie Coffee is going to take the crown this year. While it may not be as Insta-worthy without the cold foam and Cookie Butter Topping, the Spiced Cookie Coffee is so delicious you won't want to wait to snap a pic for the 'Gram before you sip anyway.
Since the Spiced Cookie Coffee comes with the same Brown Sugar Cookie Swirl as the Cookie Butter Cold Brew, it has the same flavor but slightly less bitter, since it doesn't have the cold brew base. Instead, it's a smooth sugar cookie-flavored coffee drink that's not too sweet. If you're someone who thinks Dunkin' coffee is too sweet to begin with, you may disagree, but I think the Spiced Cookie Coffee is just right. In fact, the Cookie Butter Cold Brew is much more sugary with the cold foam and cookie pieces, so this is definitely an improvement for those who don't have a strong sweet tooth. Plus, you can always adjust the amount of Brown Sugar Cookie Swirl — the medium comes with three pumps — to your liking.
The Spiced Cookie Coffee also comes with three pumps of Vanilla Swirl that you can adjust with Oatmilk in their Original Blend. Mixed together, this drink tastes like a sugar cookie you'd make for Santa on Christmas Eve. For anyone who avoided the viral cookie butter drink last year because they're not huge cold brew fans, this is your chance to try a simple coffee version. And the best part is that it comes iced or hot, so on those extra cold winter days, you can sip on a cookie coffee to keep you warm.
On Wednesdays, We Eat Doughnuts With Our Spiced Cookie Coffee
While Dunkin' may have dropped "Donuts" from their name, I still want to order one every time I get a coffee. If you're the same, Dunkin' has an early holiday gift for you. Starting Nov. 1, Dunkin's Free Donut Wednesdays promo is returning. So, when you order your Spiced Cookie Coffee, you can get a free classic doughnut as well — but only on Wednesdays and for Dunkin' Rewards Members.
Don't worry, though, it's so easy (and free) to sign up, and the deal is going on till Dec. 31. I plan on taking advantage of it as much as I can before 2024. Starting Nov. 29, Dunkin's frosted doughnuts will also feature holiday sprinkles. There really is no sweeter way to feel holly and jolly this time of year.