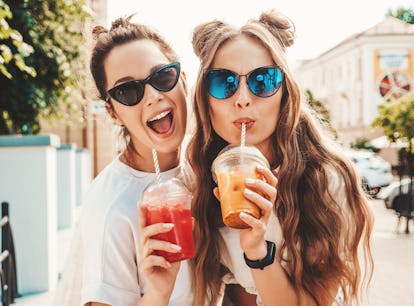 10 Delicious TikTok Drink Recipes To Get You Through Dry January
Keep it clean with mocktails and smoothies.
Shutterstock
The new year is the perfect time for a fresh start, whether you're trying to start (or restart) an exercise program, write in your journal every night, or spend a little time in nature everyday. And if you're still feeling a little sluggish from the holidays, a total reset with a dry January may be exactly what you need to clear the slate for the new year. Luckily, there are some really delicious alcohol-free TikTok drink recipes for dry January 2022 to help you out.
The best part is that these mocktail, smoothie, and slushie recipes are an absolute breeze to make. They pretty much have to be, right? A whole dry January drink recipe has to fit within a 1-minute TikTok video, so you know that it has to be simple. With just a few ingredients, you'll be well on your way to sipping your favorite alcohol-free cocktails, whether you're hanging out with your besties or relaxing solo by the fire.
And if you'd rather skip the nojitos and virgin sangrias altogether, TikTok is chockfull of delicious drink recipes that you can sip on during dry January 2022. You may even want to opt for a dessert-level chocolate smoothie that's packed with protein, or a fresh fruit smoothie that tastes like summer in a glass. Honestly, any and all of these TikTok drink recipes for dry January 2022 are sure to be a smash hit. Give them a go and enjoy refreshing and recharging in the new year.