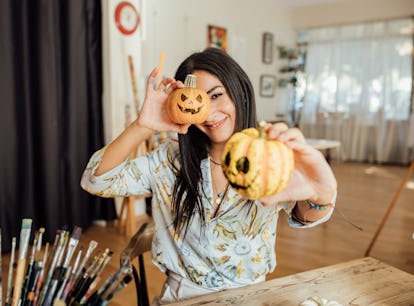 These TikTok Dollar Store Halloween Decor Hacks Include Budget Skeleton Sconces
Trick-or-treat yourself to a DIY night.
evrim ertik/E+/Getty Images
Scrolling through Instagram and TikTok this time of year, you're bound to see an increase in adorably decorated homes for Halloween as Oct. 31 approaches. You want to get into the spirit of things as well, but let's face it, buying a bunch of spooky decor can be expensive AF. If you're on a budget, you can still achieved the haunted home vibes you crave with all the best TikTok dollar store decor hacks for Halloween.
Actually, a Halloween DIY night sounds like the perfect way to kick off the season. Go for a quick run to your local dollar store to pick up some Halloween decor before spending the night at home with your roomies or partner making cute decorations to add to every room. You could even turn on a Halloween movie to watch while hot glueing. Get your craft on while watching The Craft or turn on Hocus Pocus as you focus on some DIY.
Whether you're just looking for a statement piece for your coffee table, a place to display your fall scented candles, or a revamp of your mantel with spooky spiderwebs, these 12 TikTok dollar store Halloween decor ideas are just what you need. Don't forget to share the makeover with a before and after TikTok video. You never know, you could inspire even more witches to get into the Halloween spirit as well.