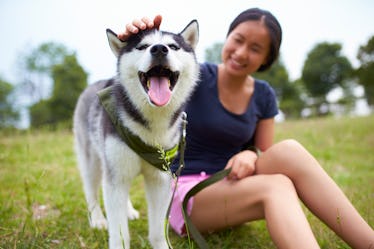 35 Captions For Pawsitively Adorable Pictures With Your Dog
Can't escape the pup-arazzi.
We don't deserve dogs with their wholesome, undying love for their owners, and how their presence is so pure and calming. Not to mention their adorable wagging tails and desire to give you as many kisses as possible. It's only natural that you'd want to share that kind of puppy love with the rest of the world on Instagram. All you need to make it possible are a few solid captions for pictures with your dog, because your sweet selfies deserve the perfect quotes.
Dog pictures are social media's saving grace. There's nothing that can brighten someone's day more than scrolling and finding a super cute dog photo or video on their Insta feed. While you love posting the occasional 'Gram living it up with your friends, you know the top fan-fave pics you post are hands down anything doggo-related. So, why not give your friends and followers a little more of what they love to see by posting a pup pic or two?
Heading on a hike or playing frisbee at the beach? Both are prime moments to snap some action shots of your fur friend with some dog Instagram captions. Perhaps, your dog is just gazing off in the distance with a silly look on their face. You know a picture of that LOL-worthy moment needs to be posted as well. To make sure you're prepared, you need plenty of dog captions, and this list we curated below ranges from funny to heartfelt for whatever occasion it may be. Pretty much, you'll be ready for a pawfect dog post in no time.
"A dog is the only thing on this earth that loves you more than you love yourself." — Josh Billings
"Don't stop retrievin'."
"The average dog is a nicer person than the average person."
"When I needed a hand, I found your paw."
"Some things just fill your heart without trying."
"Love is a four-legged word."
"What a beautiful world it would be if people had hearts like dogs."
"Forget diamonds. Dogs are a girl's best friend."
"Be the person your dog thinks you are." — J.W. Stephens
"When an 85-pound mammal licks your tears away then tries to sit on your lap, it's hard to feel sad." — Kristan Higgins
"Dogs have a way of finding the people who need them, and filling an emptiness we didn't ever know we had." — Thom Jones
"I shih tzu not."
"Money can buy a lot of things, but it doesn't wiggle its butt every time you come in the door."
"Love is wet noses, sloppy kisses, and wagging tails."
"Dogs are God's way of apologizing for your relatives."
"If my dog doesn't like you, I probably won't either."
"Life is too short to have just one dog."
"The road to my heart is paved with paw prints.
"All you need is love... and a dog."
"Sometimes, you just gotta lay on the floor with your dog."
"Dogs are my favorite people." — Richard Dean Anderson
"When all else fails... hug the dog."
"If I could be half the person my dog is, I'd be twice the human I am." — Charles Yu
"You can't buy love, but you can rescue it."
"Home is where the dog is."
"The best therapist has fur and four legs."
"If my dog makes you uncomfortable, I'd be happy to lock you up in the other room."
"Can't escape the pup-arazzi."
"Thanks fur the memories"
"Money can buy you a fine dog, but only love can make him wag his tail." — Kinky Friedman
"The most pup-ular pooch."
"Please hold your ap-paws."
"I will always woof you."
"It's impawsible to have a bad day with my pup by my side."
"Our friendship is fur real."
This article was originally published on