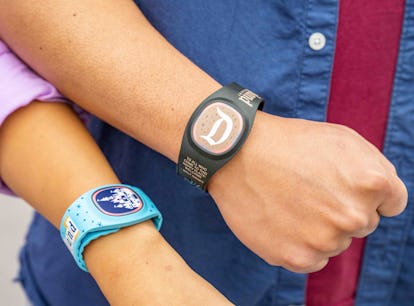 Is Disney's MagicBand+ Worth It At Disneyland? A Breakdown
The most expensive band is $55.
Disney
Disney is always looking for new ways guests can experience the parks for the first time. Usually, it's through all-new attractions, Mickey Mouse-shaped menu items, and characters making their debut for meet and greets, but the MagicBand+ is something completely different. If you've been to Walt Disney World in the last decade, you've probably experienced the OG MagicBands, but the new Disney MagicBand+ at Disneyland comes with some extra perks that might make you consider adding it to your theme park visit.
To decide whether or not you want to spend an extra $35 to $55, you'll want to compare what makes Disneyland's MagicBand+ unique from Disney World's. MagicBand+ incorporates the old amenities of MagicBand, like connecting your park tickets and room keys to your band, but also features interactive, in-park experiences. While MagicBands have been around Disney World for a decade, this is brand new to Disneyland — which makes you wonder, is it worth it?You can use your MagicBand+ on both coasts, but Disneyland offers some unique experiences. In Avengers Campus, you can interact with immersive experiences similar to how you can go bounty hunting in Star Wars Galaxy's Edge in Disneyland and Disney's Hollywood Studios. Your MagicBand+ will also light up and vibrate during certain nighttime shows at Disneyland like the all-new Wondrous Journeys fireworks and World of Color — One for the Disney100 celebration.
Another draw for MagicBand+ is that the bands feature new designs and characters. The more popular the design may mean the more money you're going to spend on it, though. When MagicBands were new, they were complimentary when you stayed at a Disney resort, but that's not the case anymore. Now, both MagicBands and MagicBand+s range from $35 to $60 depending on which design you get with the most expensive MagicBand+ on ShopDisney costing $55.
Is Disney's MagicBand+ Worth It At Disneyland?
Whether Disney's MagicBand+ is worth it really factors into where you're going to vacation. Disney World has more parks and resorts to experience over several days, and you may not be able to ride every single ride during one visit. On the flip side, you can easily get through Disneyland and Disney California Adventure in one day. For that reason alone, you won't get as much use out of your MagicBand+ if you're only going for one day to Disneyland
You also get the most use out of your MagicBand+ if you also purchase Genie+, which is an additional $25 per person each day. When you're adding that onto your $55 wristband, it's definitely a significant cost. While you don't need Genie+ for your MagicBand+, it just gives you more opportunity to actually use it for things like PhotoPass and Lightning Lane — which are included in Genie+. If you're trying to save some money, you might be better off just splurging for the Genie+ and using your phone instead of a MagicBand. The only thing you'll be missing out on are the in-park experiences.
Right now, MagicBand+ is still so new to Disneyland that those in-park experiences are a little hit or miss. If you're trying to ride every single attraction you can in one day, you might not want to spend a few hours roaming around Star Wars Galaxy's Edge doing the Batuu Bounty Hunters experience. I recently got to use the MagicBand+ at Disneyland for their Disney100 event and didn't see any opportunities in Avengers Campus where I could use my band. The new nighttime shows for the Disney100 were so thrilling that I didn't even bother looking down at my wrist to see if my MagicBand was lighting up — so that was also wasted on me.
For that alone, I would say that MagicBand+ is not necessarily worth the price if you're going to Disneyland just once. It's definitely more for Magic Key holders and fans who plan to go to the parks multiple times a year. Even if you don't get Genie+, the convenience of park hopping without pulling out your phone is worth it alone for those who go often. You'll also be able to appreciate the interactive elements when you're not in a rush or have seen the nighttime shows a few times. Plus, you can coordinate your OOTD with your band if you're a DisneyBounding park goer who loves to capture content for the 'Gram. It really depends on your level of Disney fandom for whether or not you want to take the leap and become a MagicBand+ owner.