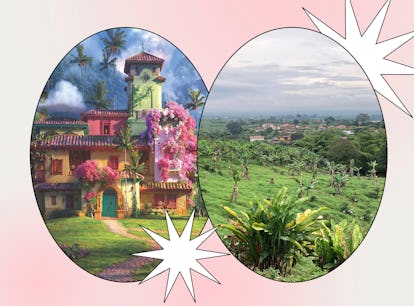 Disney's Encanto Trip Is An 8-Day Adventure Inspired By The Film
Let's talk about this itinerary, which includes arepas, coffee, and luxe hotel stays.
Adventures By Disney/Elite Daily
Disney vacays can be more than just Mickey Mouse-shaped pretzels and spinning in a teacup. For world travelers, Adventures by Disney may be more your style. These Adventures by Disney trips allow you to visit destinations around the globe with all-inclusive itineraries. Some current trips that are offered include European river cruises that make you feel like Belle from Beauty and the Beast, and 10-day adventures through the South African plains inspired by The Lion King. Now, Adventures by Disney just revealed their 2024 itineraries, which includes an Encanto-themed trip to Colombia.
Instead of set-jetting to a location where a TV show or movie was filmed, you can visit the country that inspired your fave Disney animated movie. The all-new Adventures by Disney trip is an eight-day vacay that takes you to cities like Bogotá and Cartagena as well as the coffee region in Colombia. This is a trip for wanderlust explorers looking to see some Insta-worthy views as well as foodies hoping to try their first Colombian coffee straight from the farm. The best part about an Adventures by Disney trip is that Disney really does take care of all the planning for you. Your itinerary includes meals, hotel stays, and excursions, but that all-inclusive price may be a little expensive for budget-friendly travelers.
Disney's Encanto-Themed Trip Itinerary Includes An Arepa-Making Class & Coffee Farm Tour
Your Encanto vacay will begin in Bogotá, Colombia. The first day you arrive, you'll check into the Sofitel Bogotá Victoria Regia Hotel and join your fellow travelers for dinner at a local restaurant. Day two is when the fun truly begins. After breakfast at the hotel, you'll head to the vibrant and colorful Paloquemao Market before taking a walking tour of Bogotá. For lunch, you'll be treated to a private cooking lesson to make arepas like Mirabel's mom. While they may not have magical healing properties, they will be tasty AF. Then, you'll stop by the Museum of Gold before having time to explore the city on your own.
After Bogotá, you'll fly to the coffee region of Colombia to visit a farm. During your experience, you'll get to try single origin coffee or chocolate before checking into the Hotel Mocawa Resort. Also in Amernia, you'll get to hike through the Cocora Valley, which will look just like Mirabel's hometown. You may not be able to see Encanto's Casita IRL, but the Cocora Valley is what inspired the animators when creating the film and you'll feel like you've stepped inside your screen. After lunch, enjoy a tour of Salento, which has colorful buildings like the ones you see as Mirabel is singing "The Family Madrigal" in the movie.
For the final leg of your Encanto-themed vacay, you'll fly to Cartagena and stay in the Sofitel Legend Santa Clara hotel — which looks like it could be a White Lotus resort. Your first day in the city will be for foodies as you get to go on a culinary adventure of Centro Historico to enjoy some local cuisine, and get a taste of Colombian rum and chocolate. Your second day in Cartagena will be slightly more adventurous as you journey to Proyecto Tití to go on a hike to see some cotton-top tamarins and plant a tree. You'll also get to explore the gorgeous neighborhood of Getsemani and visit Castillo San Felipe de Barajas.
Your final full day is for sea adventures as you go snorkeling along the Rosario Islands, enjoy lunch on Barú Island, relax on the beach, and say goodbye over a farewell Afro-Caribbean dinner.
‌You May Need To Start Saving Now For Disney's Encanto-Themed Trip
For eight days along with 12 excursions and 17 meals, you're looking at $4,999 per person for Disney's Encanto adventure. That's roughly $625 a day, and that's not including airfare to and from Colombia. However, with Disney, you're paying for the experiences. Disney ensures that you have Adventure Guides the entire time who help make sure you're taken care of and your trip is as magical as the Madrigal family home.
Bookings for the Colombia Adventures By Disney trip open to the general public on May 12, and there are currently 15 dates planned between March 2024 and March 2025. There is one date that takes place during Christmas week that is a little more pricey at $6,499 per person. While you may not want to talk about Bruno, you'll definitely be talking about this Encanto-inspired trip for a very long time.