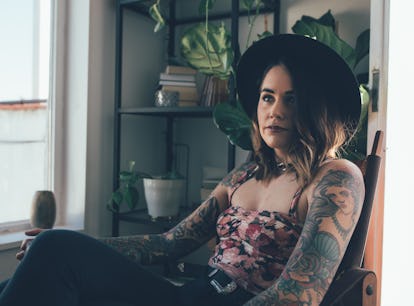 Shop The Dark Cottagecore Home Decor Trend For The Coziest Winter Aesthetic
wundervisuals/E+/Getty Images
Cottagecore has been the go-to aesthetic for quite some time. With Taylor Swift's folklore and TikTok home decor videos really boosting the cottagecore trend, it seems that it's here to stay. However, cottagecore always has a more spring or fall vibe to it, which is a little less present in the wintertime. That's where dark cottagecore comes in to reflect your more shadowy winter aesthetic. By shopping dark cottagecore home decor, you can really match your space to how you're feeling.
The dark cottagecore aesthetic is trending on TikTok as one of the top home decor trends for 2022 for a more moody take on the popularized cottagecore aesthetic. If you're unfamiliar with the term, you may be wondering, what is dark cottagecore?
What Is Dark Cottagecore?
Dark cottagecore, or goth cottagecore, also utilizes fairy tales and nature, but with a more Brothers Grimm take than a Disney one with its focus on a gothic forest lifestyle. For instance, cottagecore mushrooms are big in cottagecore decor, but for the dark cottagecore aesthetic, you may choose to hang up wall art of rotted or black mushrooms for a slightly edgier take. This is also an aspect of goblincore, which is all about appreciating things in nature that you might not typically think of as beautiful, but definitely provide a unique aesthetic of their own.
A dark academia aesthetic room may also have some skeletons on the bookshelves along with thorny branches in vases. When decorating your bedroom or home with a dark cottagecore aesthetic, channel your witchy side like you're the sinister character in a fairy tale. The moody feel will perfectly complement how soon the sun sets in the winter and how quickly you want to just wrap yourself up in a blanket, light a few candles, and read a good romance novel by the fire. If this all sounds like the dreamy aesthetic you're looking for, here are some dark cottagecore home decor items you can collect now.
We only include products that have been independently selected by Elite Daily's editorial team. However, we may receive a portion of sales if you purchase a product through a link in this article.
This article was originally published on