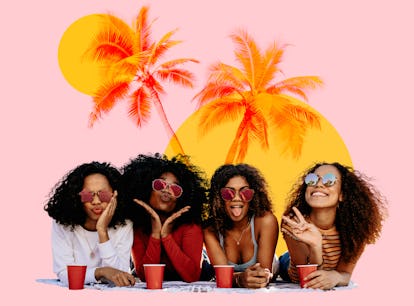 Book One Of These Affordable Bachelorette Party Beach Spots In 2022
You and your bride tribe can seas the day from Miami to Mexico.
Elite Daily/Shutterstock
2022 is the year to follow your wanderlust. Many people are hoping to finally get away after almost two years of staying close to home, but where exactly should your adventures take you? Well, if you have plans to say "I do" or are part of a bridal crew, you may want to set your sights on cheap bachelorette party beach destinations that are an affordable option for spring 2022.
According to travel experts, people are interested in unique bachelorette party destinations for some of their first vacations of the year, and globetrotters are setting their sights far and wide. It may be that the winter weather has you dreaming of the sun, surf, and sand, which just makes a trip to the seashore all the more intriguing. As always, you'll want to check out the most up-to-date travel recommendations from the Centers for Disease Control and Prevention (CDC) and take a look at any local health guidelines. In addition, you might have additional requirements or need to complete additional testing, depending on where you go.
Of course, you don't want to spend your entire travel budget on just one bachelorette weekend. That's where these 10 cheap bachelorette party destinations come in to save the day. While they may be budget-friendly, you'll still be getting everything you've ever dreamed of in a beach bachelorette party. If you're all about the vibes, a Miami trip with your besties is the perfect opportunity to try delicious food while taking in the gorgeous and colorful views. You could also follow some of the travel trends of 2022, and visit a few Mexican beaches that have bioluminescent and neon waves at night. Wherever you end up, you're sure to find some really great deals on all-inclusive bachelorette party destinations on sites like Travelocity and Expedia. You just need to know where to set your search to, and the best affordable bachelorette party destinations are right here.
The CDC recommends traveling only after you're fully vaccinated and your vaccine has become fully effective. If you're not fully vaccinated and must travel, check the CDC guidelines before you book. Check your destination's vaccination and testing requirements before you depart.