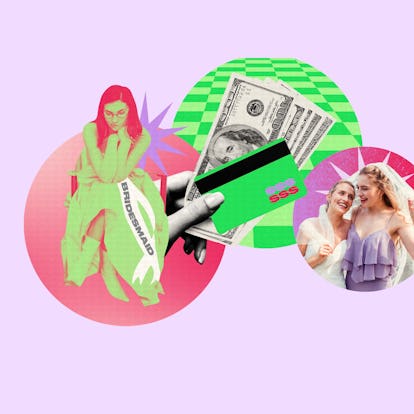 12 Millennial And Gen Z Bridesmaids Share Their Best Wedding Budget Tips
It's OK to voice your budget boundaries.
Getting asked to be a bridesmaid for your BFF's wedding is an honor. Not only do you get to celebrate their happily ever after, but you also get to do it by their side. However, while it's a once-in-a-lifetime opportunity, it's not a cheap one. Between the bridal shower, bachelorette party, and wedding day, the expenses can really rack up. If you still want to be there by your bestie's side during their wedding day, these bridesmaid budgeting tips from millennial and Gen Z bridesmaids will help you learn how to be a bridesmaid on a budget.
For any new first-time bridesmaids, you will quickly find out that it's not just the dress you have to save up for. You'll also need to chip in for the bridal shower and bachelorette party as well, and depending on your bestie's budget and wishes, those expenses can be a bit much. However, if you're able to get ahead of your bridesmaid budget, you can save some serious money. Elite Daily spoke with a few former bridesmaids who shared their money-saving bridesmaid tips and bridesmaid budget hacks that'll come in handy as your bestie's big day approaches. These 12 tips from millennial and Gen Z bridesmaids can even help you become a better and more prepared bridesmaid for your BFF.