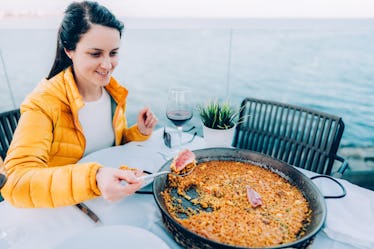 10 Best Hidden Gem Restaurants In The World To Visit In 2023
A travel bucket list for foodies.
martin-dm/E+/Getty Images
The best part of traveling around the world is trying new flavors and culinary styles. It's always exciting to explore the restaurants in a special destination to find a meal you'll reminisce over for literal decades to come. You can always show up in your destination with an open mind and empty belly, hoping to stumble upon some amazing food as you go along your trip, or you can research the main places to eat so you don't miss a popular bite. Wherever you are, it's usually true that the lesser-known restaurants are actually the best because they're owned by locals. Keep scrolling to check out the best hidden gem restaurants in the world from 2022 to add to your foodie bucket list, according to TripAdvisor reviews.
If you love experiencing travel through cuisine, you can plan your next trip around a restaurant or eatery that you're excited to visit. Unless you ask locals on the street where to find a good meal, it can be hard to find the best place to eat as an outsider. Luckily, Tripadvisor's 2022 Travelers' Choice Awards took the guesswork out by showcasing the 10 best hidden gem restaurants in the world you need to try in 2022.