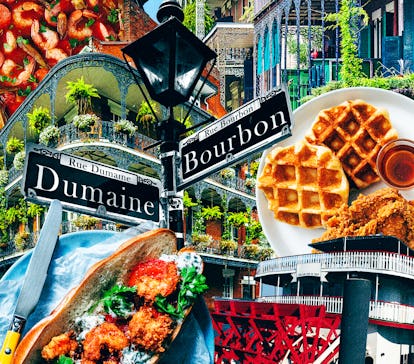 The Best Black Women-Owned Restaurants In New Orleans For Authentic Creole And Southern Comfort
Experience the taste of NOLA.
Elite Daily
As we exit Black History Month and begin Women's History Month with Mardi Gras on March 1, it's the perfect time to pay homage to today's Black women restaurateurs in New Orleans, and the entrepreneurial spirit of the enslaved Black female cooks who paved the way for them. Both freed and enslaved Black women took inspiration from African traditions and cultures, ultimately contributing to what we now know as New Orleans Creole and Southern soul food. Here are the best Black women-owned restaurants in New Orleans where you can enjoy an authentic (and unforgettable) taste of the Crescent City.
In most Black families in NOLA, the skill of cooking was taught by the elder women in the family. Wide-eyed and inquisitive little Black girls would happily sit in a hot kitchen, watching as the women filled late nights and early mornings cooking, baking, and telling stories. I was one of those little girls loving every minute in the kitchen with my grandmother Momo, who talked about how she and the Black women before her made extra money by cooking and baking. My grandmother would host suppers at church and sell bag lunches and hot dinner plates to men working on the Mississippi River Pier, construction sites, and the railroad.
These Black women were more than just cooks; they were also self-made entrepreneurs, creating a business model that was passed down and is still thriving in the Crescent City today. Generations later, Black women in New Orleans proudly continue to follow in their food-steps as owners of restaurants, caterers, food truck owners, street food vendors, and more.
Join me in celebrating the women who proudly continue the New Orleans culinary traditions and legacies of countless strong, influential, and creative Black women of yesterday. The next time you're in the Crescent City, make sure to check out these Black women-owned restaurants that continue to add flavor to New Orleans' culinary scene.
1
Dooky Chase, Historic Treme Neighborhood
2301 Orleans Ave, New Orleans, LA 70119
Visit The website
Known as the "queen of Creole cuisine," the late Leah Chase founded one of the first African American fine dining restaurants in the United States, Dooky Chase, in 1941. This upscale restaurant, which has served the likes of former President Barack Obama, is known for Leah's Creole Gumbo, which she used to say could solve the world's problems. The roux is the secret to the gumbo's rich and complex flavor.
In addition to dinner on Fridays and Saturdays, Dooky Chase also serves a lunch buffet of New Orleans favorites such as red beans and rice, stuffed shrimp, bread pudding, gumbo, and more Tuesday through Friday. Mrs. Leah passed away on June 1, 2019, but her legacy and recipes continue to thrive today under the leadership of her daughter, Stella Chase Reese.