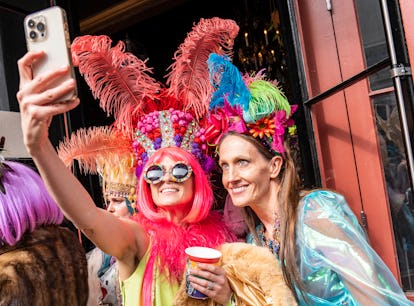 30 Mardi Gras 2022 Captions For Instagram To Celebrate The World's Best Party
Erika Goldring/Getty Images Entertainment/Getty Images
It's time to bring out the glitter and pick out your most decadent outfit, because Mardi Gras 2022 has arrived. The parades and parties are already in full swing in New Orleans, and maybe you're already on your way there for the celebration or getting into the festivities from home. Wherever you're celebrating, you'll want to remember every last piece of confetti as you dance in the streets with your friends, so be sure to jot down a few of these Mardi Gras 2022 captions for Instagram so your posts can have some Bourbon Street vibes.
Mardi Gras, which officially kicks off on March 1 this year, has been celebrated for centuries, and the party shows no signs of slowing down. Thousands of people still head to New Orleans every spring to carry on the tradition. Because Mardi Gras is celebrated on the first day of Lent and the last day of Carnival season, the exact date changes every year, but that doesn't seem to matter to the thousands of people who celebrate. The day truly embodies pleasure and fun, as it marks a last hurrah before the restriction of Lent. So, whether you're hanging out in New Orleans or celebrating from afar, be sure to dive into beignets and a King Cake, and snap some Mardi Gras photos for Instagram, too.
Once you've packed your gem-toned masks and multi-colored beads, it's time to prep your Instagram feed for some epic party posts. These Instagram captions for Mardi Gras 2022 will help you liven up your feed with a little extra sparkle.
"Leave a little sparkle wherever you go." — Unknown
"Shine bright like a diamond." — Rihanna, Diamonds
"It's Mardi time." — Unknown
"Everywhere else it's just Tuesday." — Unknown
"Keep calm and party on." — Unknown
"From bead to shining bead." — Unknown
"Beads and bling. It's a Mardi Gras thing." — Unknown
"Welcome to the jungle we got fun and games." — Guns N' Roses, Welcome to the Jungle
"All you need is love and some really nice beads." — Unknown
"Throw me something!" — Unknown
"I feel the need, the need for beads." — Unknown
"An American has not seen the United States until he has seen Mardi Gras in New Orleans." — Mark Twain
"We don't hide the crazy. We parade it down the street." — Unknown
"If I had a power color, it would definitely be sparkle." ― Rachel Hollis
"Beads or it didn't happen." — Unknown
"Some girls are just born with glitter in their veins." — Paris Hilton
"Leave a little sparkle wherever you go." — Unknown
"She who leaves a trail of glitter is surely never forgotten." — Unknown
"Life is too short not to celebrate the nice moments." — Jurgen Klopp
"Keep calm and throw on." — Unknown
"You're not fully dressed until you sparkle." — Unknown
"Happiness is achieved when you stop waiting for your life to begin and start making the most of the moment you are in." ― Germany Kent
"Big fun in the Big Easy." — Unknown
"The purpose of life is to live it, to taste experience to the utmost, to reach out eagerly and without fear for newer and richer experience." ― Eleanor Roosevelt
"Life is either a daring adventure or nothing at all." ― Helen Keller
"It's time to get jazzy." — Unknown
"It's good to be king." — Unknown
"We're so busy watching out for what's just ahead of us that we don't take time to enjoy where we are." ― Bill Watterson
"There's nothing King Cake can't fix." — Unknown
"Beignet, done that." — Unknown