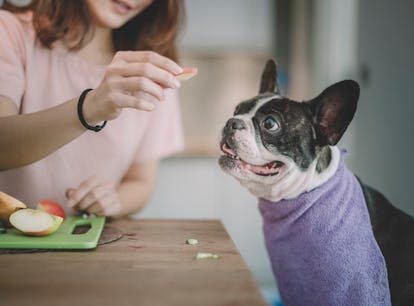 Treat Your Dog To A Barkuterie Board Inspired By These TikTok Ideas
Edwin Tan/E+/Getty Images
Charcuterie boards have come a long way, thanks to TikTok and Instagram. Last year, many people were even taking their snack board obsession to the next level with butter boards. And while they're the perfect idea for Bachelor nights and parties, your fur friend would like to get in on the trend as well. That's where barkuterie board ideas come into play.
You might be wondering what a barkuterie board is. Well, it's exactly what it sounds like — a dog charcuterie board. Instead of arranging snacks on a board for humans, you can arrange a nice spread of dog-friendly treats for your pup to chow down on at home. Of course, most human charcuterie boards are already pet-approved, but you can find barkuterie board ideas from TikTok to make your boards more picture-perfect. For example, arrange your treats in a fun shape like a dog bone or heart to show how much you love them.
These 10 barkuterie board ideas can even provide you with some inspo on additional snacks to include aside from your pup's fave carrots or apple slices. There are even some dog charcuterie board ideas for holidays like Valentine's Day and their birthday. Your pup deserves to be treated, so why not put together a snack board for them to enjoy?