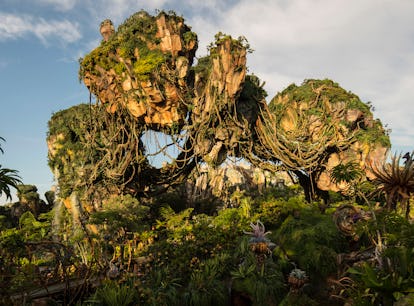 Pandora From Avatar: The Way Of Water Is Inspired By These IRL Locations
Some of these places may already be on your bucket list!
Disney
As Liz Lemon once said, "I want to go to there." That "there" is Pandora — aka the world of Avatar. Anyone who has seen the first Avatar film or plans to see Avatar: The Way of Water in theaters can agree that Pandora is a breathtaking and gorgeous location. While most of the actual Avatar filming locations are movie sets and CGI, Avatar's Pandora was inspired by real locations you can visit.
For those wondering where Avatar was filmed, you may be disappointed to hear that the two main filming locations for The Way of Water were MBS Media Campus in California and New Zealand at the Stone Street Studios and Kumeu Film Studios. If you visit those places today, you most likely won't be able to see any floating mountains and bioluminescent waters. However, Pandora was also inspired by real locations around the globe that should be on everyone's wanderlust bucket list.
From glowing caves in New Zealand to rainforests in Hawaii, here are the real-life locations you should visit if you're a fan of the Avatar films.