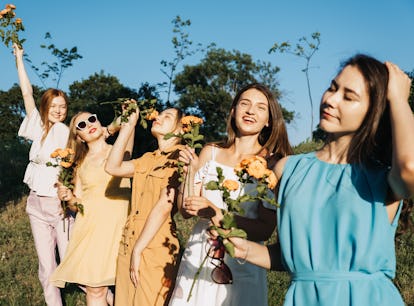 40 April Captions And Quotes For Springtime Adventures And Blooming Instas
It's time to shower your feed with some April pics.
Iryna Khabliuk / EyeEm/EyeEm/Getty Images
Now that spring is officially here, it's time for floral OOTDs, picnics in the park with your BFF, and heading to the beach for a little spring break. Even if you just have plans to staycation at home with some Netflix, you need some April captions and quotes for all the 'Grammable moments that'll be happening this month. After all, April really does have peak spring vibes, and you've got to capture them all.
During April, you've got the refreshing spring weather that just makes you want to drive around with the windows down, listening to your favorite tunes. Since the sunshine is so nice, you may have plans to sit poolside for the first time this year or visit a farmers' market for some fresh produce and gorgeous blooms. Let's not forget, April is also when we get Easter, which includes plenty of photo and TikTok opportunities. Whether you celebrate or not, Easter candy is a must, and you might even want to dabble with some Easter-themed recipes from TikTok, like Peeps skillet s'mores or another sweet treat,
Everything from your baking masterpieces to your spring weather adventures must be documented, which is why April captions for Instagram are a must. With this list of 40 April quotes and springtime captions, you'll have everything you need to post those sunglasses selfies and pastel-colored 'fits right away. Even if it's just a photo dump at the end of the month of all your highlights, there's an April Instagram caption here for you.
"April showers bring May flowers."
"April is a promise that May is bound to keep." — Hal Borland
"April is the cruelest month, breeding lilacs out of the dead land, mixing memory and desire, stirring dull roots with spring rain." — T.S. Eliot, The Waste Land
"April hath put a spirit of youth in everything." — William Shakespeare
"The way you move is like a full-on rainstorm." — Taylor Swift, "Sparks Fly"
"Oh, If I could live April again." — Dean Martin, "April Again"
"I ain't dandelion. April is my favorite month."
"Every daisy is better because of you."
"Have yourself an egg-cellent April."
"April prepares her green traffic light and the world thinks 'go.'" — Christopher Morley
"April is the kindest month. April gets you out of your head and out working in the garden." — Marty Rubin
"April comes like an idiot, babbling and stewing flowers." — Edna St. Vincent Millay
"Spring has sprung."
"I lilac April so much."
"Time to take stalk of your life."
"Don't stop be-leafing in April adventures."
"Once and floral it's April."
"April showers bring aMAYzing selfies."
"Spring is here, what a re-leaf."
"Bloom where you are planted."
"Welcome to the April chapter of my story."
"Here comes the sun."
"OK, bloomer."
"I love April pools day."
"Spring is nature's way of saying, 'Let's party.'" — Robin Williams
"I've got a spring in my step."
"Do your thing, April."
"Hoppy April."
"It's April thyme."
"Hopefully thistle cheer you up."
"Hanging with my bed buds this April."
"You belong among the wildflowers." — Tom Petty, "Wildflowers"
"It would be a shame to miss New York in the spring." — You've Got Mail
"A flower blossoms for its own joy." — Oscar Wilde
"Where flowers bloom so does hope." — Lady Bird Johnson
"Getting back into the spring of things."
"Doing my April thing this spring."
"Don't worry, be hoppy."
"Oh, how I've missed April."
"Life is short, buy the April flowers."