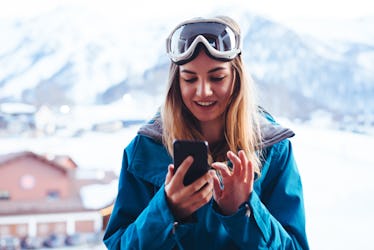 50 Clever Captions For Spring Break, Because The Party Never Ends
For when you're ready to share the memories on Instagram.
Arand/E+/Getty Images
Rejoice, because it's beginning to look a lot like spring break. This week-long break in the spring honestly feels like Christmas all over again when you're adulting. Whether you're hitting up the beach, the slopes, or planning a cool staycation, it's a precious time to spend doing whatever you want. You don't have to worry about studying or group presentations. You can finally kick back, relax, and have some fun. It's even better if you can do it with your day ones. You'll need some clever spring break captions and quotes, because you're going to want to remember it all.
Many spring breakers choose to head straight for the beach, and it's easy to see why. The ocean and sunshine are sure to brighten your day, especially when it's been a long, snowy winter. You can get adventurous with water sports, or simply work on your tan while sinking your toes into the sand. But it's also easy to see why the mountains or a snowy location are a great spring break destination—there's hot cocoa, snow angels, and tons of fun activities. Either way, there's plenty to do. Many spring break destinations will hold different concerts and fun events to help you make the most of your experience. You're able to be surrounded by other spring breakers, maybe even making a few new friends. Trust me, you'll have no problem enjoying spring break to the fullest, and these clever captions will help you capture every moment.
"We run this beach."
"All we need is the sand and the sea."
"High tides and good vibes."
"Can't keep calm, because it's finally spring break."
"Work hard, beach harder."
"Am I ready for spring break? Shell yeah."
"Cruise, baby, cruise."
"BRB. (Beach right back.)"
"If there's a will, there's a wave."
"Catch waves, not feelings."
"Let the waves hit your feet and turn the sand into your seat."
"Getting a healthy dose of vitamin sea"
"It (spring) breaks my heart to leave this beautiful place."
"Call me on my shellphone."
"A pineapple a day keeps the worries away."
"You can't buy happiness, but you can buy a lift pass, and that's kind of the same thing."
"Alright spring breakers, you know what time it is." — The Lonely Island, "Spring Breakers"
"Live in the sunshine, swim the sea, drink the wild air." — Ralph Waldo Emerson
"Shore do love this view."
"Spring break is in session."
"Sea you later, beaches."
"No one likes shady beaches."
"Seasters for life."
"Beach, you guessed it."
"Officially on island time."
"Sun, please."
"Paradise doesn't have to be tropical."
"Why can't spring break be year-round?"
"Rolling with the snowmies."
"Passports and pineapples."
"No drama is welcome in the Bahamas."
"Let's taco 'bout this lunch spread."
"Left my heart in the tropics."
"If you like piña coladas, and getting caught in the rain." — Rupert Holmes, "Escape (The Piña Colada Song)"
"What day is it again?"
"Floating into spring break like..."
"Living on salt time — do not disturb."
38. "Spring break-bound."
"Obligatory spring break selfie with these main beaches."
"Tropic like it's hot."
"Keep calm and spring break on."
"Happiness comes in waves."
"Same time next year?"
"Straight from the snow to the sand."
"Snow glad we're here!"
"Reality called, I denied it."
"I could get used to this view…"
"The tans will fade, but the memories will last forever."
"Vacay all day everyday."
"There's snow place like spring break."
This article was originally published on