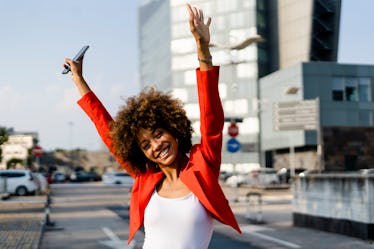 30 First Day Of Work Instagram Captions For When You're Dressed To Impress
Step aside, first day jitters — you've got a new job, and you're ready to make your first day a memorable one. You're eager to meet the coworkers who may become your work besties and set up your desk just to your liking with a killer aesthetic. Of course, your first day at a new gig also requires an outfit that will impress, so snap an #OOTD pic and post it to the 'Gram right away with an Instagram caption for your first day at work.
You know a good impression starts with what you're wearing. You may have a stylish blazer you can't wait to pair with an awesome jumpsuit, or want to take inspiration from Emily in Emily in Paris and wear a color-coordinated number. Either way, a picture is necessary, even if you've got a WFH setup and have to chat with your new colleagues over Zoom. Since you'll be filling your head with all the necessary first-day info (i.e. when's lunch, who's who, and what's your password?), make posting to Instagram as easy as possible by using any of these 30 first-day-of-work captions. You don't have to come up with something cute or punny on your own. All you need to do is snap, caption, and get right back to figuring out how to connect to the printer.
"You can have anything you want in life if you dress for it." — Edith Head
"Always dress like it's the best day of your life."
"The most effective way to do it is to do it." — Amelia Earhart
"The expert in anything was once a beginner."
"What you wear is how you present yourself to the world." — Miuccia Prada
"I have a good coffeeling about this job."
"Words cannot espresso how excited I am about my first day."
"This is the first day of my life." — Bright Eyes, "First Day of My Life"
"On this perfect day, nothing's standing in my way." — Hoku, "Perfect Day"
"The fax are I look too good on my first day of work."
"Go confidently in the direction of your dreams!" — Henry David Thoreau
"In every job that must be done, there is an element of fun. You find the fun and — snap! — the job's a game." — Mary Poppins
"Go in there with the confidence of an incredibly average white man." — The Bold Type
"A new job is like a blank book and you are the author."
"Smiling on the outside, but thinking, 'WTF did they just say?' on the inside."
"Always deliver more than expected." — Larry Page
"Hello, new life."
"I manifest the things I want by believing in their existence."
"I love a good supplies party."
"I will not be latte to my first day."
"The future belongs to those who believe in the beauty of their dreams." — Eleanor Roosevelt
"Success seems to be connected with action. Successful people keep moving. They make mistakes, but they don't quit." — Conrad Hilton
"Just be yourself, there is no one better." — Taylor Swift
"Would I rather be feared or loved? Easy. Both. I want people to be afraid of how much they love me." — The Office
"You don't have to see the whole staircase, just take the first step." — Martin Luther King Jr.
"To be successful, the first thing to do is fall in love with your work." — Sister Mary Lauretta
"Do what you love and you'll never have a problem with Monday."
"That move you're afraid to make could be the one that changes everything."
"So, does this office do bagel Fridays or nah?"
"Can't wait to meet my work fam."