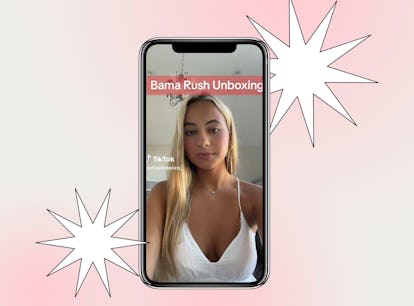 These 2023 #RushTok PNMs Are Must-Follows Before Bid Day
TikTok: @sofiaafederico
Summer's coming to a close, and you know what that means: It's rush time. In 2021, sororities at the University of Alabama went viral — recruitment week GRWMS, coordinated sorority dances, and bid day reveals took over FYPs all over the world. Two years later, the #RushTok hashtag has over 1.4 billion views, while #BamaRush has 2.9 billion views. It's a certified internet phenomenon, and it's here to stay.
As one TikToker user put it, "Anyone else 30 years old on Rush Tok for some reason?" — and she wasn't the only one who couldn't look away. Rush stars like Kylan Darnell and Gracyn Edmonson have gained hundreds of thousands of followers, becoming major influencers as they started their college experience. The #RushTok craze even prompted HBO to release a documentary in May chronicling rush at Bama.
Ahead of Bid Day 2023, aka #RushTok Season 3, there are already several rising stars worth watching. TikToks of these young women's rush bag hauls (where they keep essentials like makeup and snacks), move-in day vlogs, and dorm tours are going viral. Below, find the PNMs worth following so you can tag along on their Bama rush journeys and get your rush rosters ready.
This article was originally published on