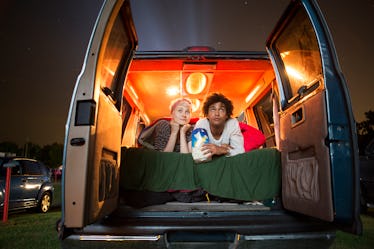 These Unique Spring Drive-In Experiences Across The US Are Great For Date Night
Cavan Images/Cavan/Getty Images
There's a reason going to the movies is the ultimate date night idea. With a good flick, delicious snacks, and your partner by your side, you're guaranteed to have a good time. This past year, drive-in movie theaters have become the fun alternative to just Netflix and chilling at home. It gives you an excuse to get dressed up and go somewhere. Now that we're deep into the spring season, you and your partner might want to check out some unique spring 2021 drive-in experiences across the U.S.
Drive-in theaters have become super popular throughout the ongoing coronavirus pandemic. By being able to stay in your car, you get to control your environment and feel more at ease. When previously speaking with Elite Daily about the safety of car travel amid the pandemic, Melissa Dohmen, senior communications manager at Orbitz, put it perfectly, saying, "You know [your car] hasn't come into contact with anyone else." Even the Centers for Disease Control and Prevention (CDC) lists going to a drive-in as one of the more safe activities to do.
With that in mind, put going to the drive-in on your calendar ASAP. It's not only a fun activity you and your partner can do, but it's an activity that will ease yourself back into going out socially. Instead of watching another movie on the couch, watch a throwback fave under the stars. Some theaters are even showing movies that fit a cute theme like '90s faves or post-pandemic dreams. All you need to do to join in on the fun is check out our carefully curated list of 19 drive-in experiences in the U.S. that you can experience this season.