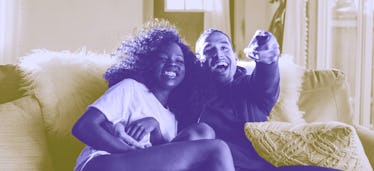 These '90s Rom-Com Dates At Home Will Fill Your Weekends With Sweet Surprises
Shanelle Infante, Elite Daily
If you're looking for fresh date night ideas, you've come to the right place. Your go-to plan may be dinner and a movie, but instead of watching another romantic-com, why not recreate one with your SO? Take a cue from Cher Horowitz and Josie Geller with these home date night ideas inspired by '90s rom-coms that are so swoon-worthy. These nostalgic films might have defined what you thought true romance was growing up, so it makes sense that you'd want to recreate them with bae now.
Plan something fun for your evening together like a karaoke party for two in your living room. Channel 10 Things I Hate About You while you and your SO serenade each other with "Can't Take My Eyes Off Of You." If you're looking for a fun twist on dinner, put together a little picnic on your rooftop, having deep conversations like Ethan Hawke and Winona Ryder in Reality Bites. If you're looking for a challenge, try giving each other a Clueless-inspired makeover.
Before there was ever such a thing as Netflix and chill, you had these 10 '90s movies to turn to. Use them now to plan an epic date night that will definitely take you and your partner on a trip down Memory Lane.