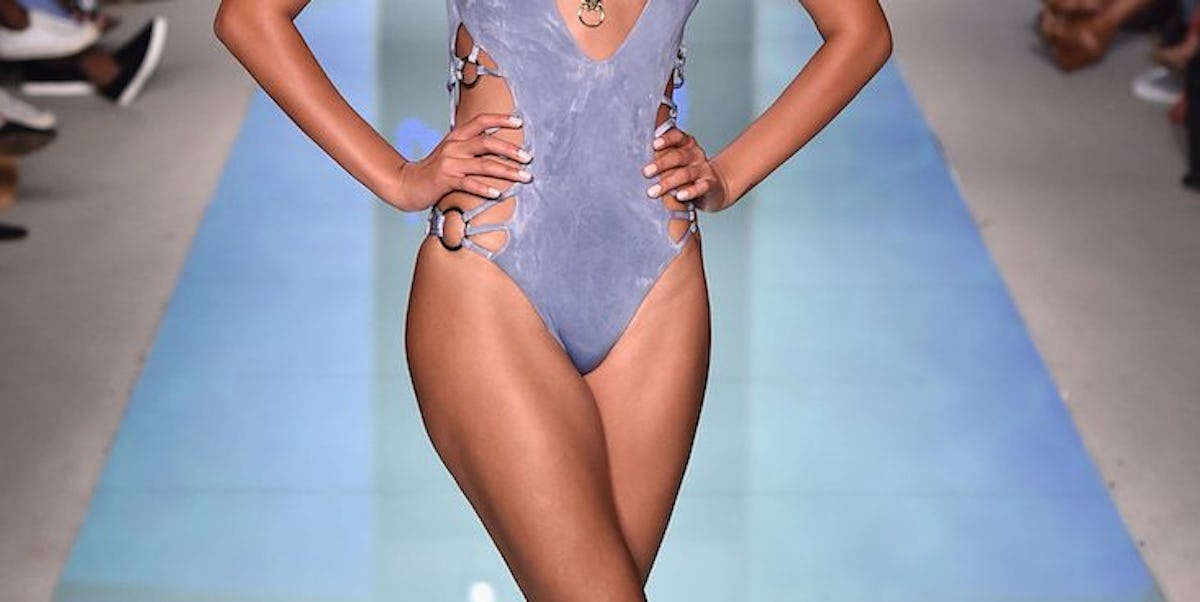 Yes, There Is Now Officially A Highlighter You Can Use On Your Vagina
Getty/Fabiano Silva
Beauty bloggers are currently experimenting with adhering actual pearls to their cheekbones, and creating camera flash-level luminosity with Swarovski crystals. Rihanna has singlehandedly made both gold and purple highlighters trendy for fall. From contouring to strobing, we are a country obsessed with strategic shine. And now, for better or worse, the Perfect V vagina highlighter exists, and it's specially formulated to get your vulva area poppin', presumably for poolside and bedroom appearances, although I'm not telling you how to live your life.
Created by The Perfect V, a company solely devoted to pampering your privates, the Perfect V vagina highlighter was released alongside seven other vagina-specific products: a wash, a cream, an intensive cream (whoa), an exfoliator, a serum, wipes, and if that's not enough, a beauty mist for between your legs. In case you were wondering, yes those are more than enough products for you to give yourself an at-home vajacial, or vagina facial, because yes, that is also a thing.
However, if you want the instant gratification of an immediately-shiny vagina, the Very V Luminizer ($43; theperfectv.com) is your best bet. And honestly, who doesn't want to drop trou and reveal their true inner radiance? TBH, with all of the highlighting going on in the world, your vagina was probably feeling left out all along.
As you can see, the highlighter comes in chic millennial pink packaging — what else? — and boasts three benefits right there on the label: "Highlight, soften, illuminate." According to the brand's website, the potion will "brighten and minimize the appearance of skin imperfections" while "luminious iridescent color adds some extra prettiness to the V." In this case, the "V" the company refers to is more of the mons pubis, or the triangular area above the vagina where pubic hair grows, and less of the actual vagina. "It's that pretty triangle - the bikini line and visible delicate skin...that we wax, shave, laser, sugar, trim or dye then leave until the next time," explained the founder of The Perfect V, Avonda Urben. "We either call it vagina (which is medical sounding), vajayjay (which is silly and sounds like it's making fun of it) and then there are the derogatory terms."
Whatever you want to call it, the Very V Luminizer treats this precious area with a host of nourishing ingredients, like vitamin E and Elderflower, an anti-inflammatory extract popular in the Nordic regions. In fact, the whole Perfect V line contains Scandinavian ingredients, in homage of its birth place. Urben is native New Yorker who has resided in Copenhagen, Denmark for the past six years, which inspired her to create her cheeky skincare company:
I'm amazed at the confidence Scandinavian women exude. They don't think about being nude, it comes natural — 'good' body or not — it doesn't matter. It's just about being natural and feeling free and comfortable in your own skin. I thought it was odd that neither beauty companies nor package goods companies see the V as a beautiful body part of a women's body—the way I do.
Now that's something I can get behind. The male "V" might receive more attention for the way it protrudes under six-pick abs, but the female "V" is also a bastion of natural beauty. Whether naked or untouched, strobed or plain, no woman should be ashamed of her "V". And while no one should feel pressure to strobe down south, if you want to, more power to ya.
As far as safety goes, the formula is free of fragrance, sodium laurel sulfate (a cleansing ingredient that may strip or irritate skin), and parabens, but you should still test it over a small patch of your skin before applying to the whole area. Anyone who has undergone a bikini wax can attest to the sensitivity of the area, and it's better safe than sorry. Otherwise, if your heart is calling out for a vagina highlighter, just glow for it.