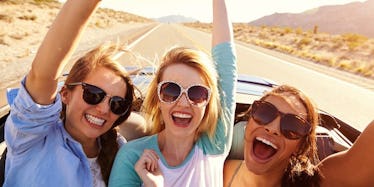 7 Reasons Why Trips With Your Girls Will Always Be More Fun Than With Your SO
Fotolia/Monkey Business
Even though private romantic getaways are just as heavenly as they sound, it's seriously hard to beat a summer trip with your girl squad.
Whatever you do together, it's sure to be a great time. Even an achingly long car ride can pass by quickly with a little help, and a solid playlist.
The tricky part about a trip with the girls is working around everyone's schedules. When you've successfully planned it all out, it'll feel like a dream come true.
Whether you're camping in the mountains, taking a road trip, or splurging on a luxury tropical vacation, being with your best friends makes any experience even more special.
Here are seven reasons why trips with your main girl squad will always be more fun than a getaway with your SO.
1. You'll Have More People To Upload To Your Epic Playlist
All you need is a Spotify account and compatible taste in music.
Before you know it, you'll have hours of songs to jam to all the way to wherever you're headed. Carpool karaoke, anyone?
2. You'll Make Inside Jokes Galore
One of the perks of traveling with your close friends is that you've already got a stash of inside jokes ready to reference when the time is right. It's a sure fire way to lighten the mood and send everyone into fits of laughter.
By the end of your trip, you'll have even more inside jokes to laugh about with your besties.
3. You're With A Solid Team Of Photographers
Even if your SO is a professional photographer, they can't beat the kind of attention you get from your squad as they help you take the perfect photo for Instagram.
One person can only do so much, and that's why your friends are there to give you perfect selfie lighting and anything else you need to slay your pose.
4. You'll Have Prime Girl Talk On The Reg
As much as you love the men in your life, nothing beats the kind of bond you get from girl talk.
There's something so comforting about commiserating over PMS and any drama you're experiencing with your SO.
5. It's More Affordable
The larger the group, the less cash each individual has to dish out.
You can squeeze most, if not all, of your squad into a hotel room, and carpooling means saving on gas and fuel emissions. Even the earth wants you to travel with your friends.
Sharing is caring, after all.
6. The Buddy System Keeps You Safe
The unfortunate truth is that the world isn't nearly as safe for women as it is for men. Luckily, being in groups can eliminate a lot of the risk that comes with traveling.
Even if your group decides to split up, no one will be alone. You can all work to keep each other safe so you can have the best trip possible.
7. You Can Take Part In Fun Group Excursions
Couples can join in on group activities too, but being paired up with another party of people you don't know can make or break the entire experience.
Sending a group of friends down a river in a white water raft? Unforgettable.