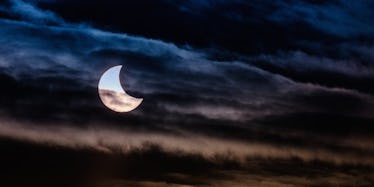 When Is The Next Solar Eclipse? Here's What You Need To Know
Viliam/Fotolia
By now, you've probably heard the United States is going to witness a solar eclipse. A total of 14 states lie in the path of totality, where people will be able to view a complete eclipse of the sun. The rest of the country will still see an eclipse, but not 100 percent of the sun will be blocked by the shadow of the moon. Locations around the country are equipped with NASA-approved eclipse glasses so that millions of Americans can safely watch the total solar eclipse. So, when is the next solar eclipse?
The celestial event will occur on Monday, Aug. 21. Since the upcoming event is both a total eclipse and will pass across the stretch of Oregon to South Carolina, it's becoming an affair of importance and has been nicknamed appropriately: The Great American Eclipse.
In 1991, a partial eclipse touched Baja, California, making it the last solar eclipse in the United States. While many people traveled to Hawaii to watch the event, cloudy weather left observers disappointed. In Baja, California, a partial eclipse lasting almost seven minutes was seen perfectly in clear skies.
After the Great American Eclipse, sky watchers in North America will have to be patient before they can out their eclipse glasses to use again. The next solar eclipse with totality in the United States won't be until April 8, 2024. In October of 2023, however, an annular eclipse will be visible in much of the western U.S. Sorry, America, but you're going to have to wait awhile before an opportunity like this rises (pun totally intended) again.
Take a few minutes out of your busy schedule on Monday, August 21 to catch a phenomenon that's truly a once-in-a-lifetime experience. Be sure to be equipped with your solar eclipse glasses to protect your eyes, and get ready to embrace the absolutely surreal views.