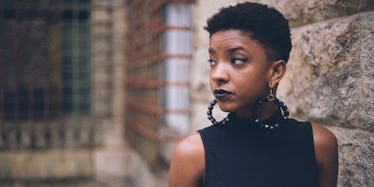 I'm Using The Summer To Own My #BlackGirlMagic, Here's Why You Should Too
Henri Meilhac/Unsplash
It's almost officially summer, and while you should love the skin you're in year-round, there's something especially freeing about this time of year.
For some reason, the endless sunshine puts me in a great mood and encourages me to own my melanin relentlessly.
It's the ultimate time for adventure, and a time to discover new things about yourself, in addition to the world we live in.
Owning your #BlackGirlMagic has a lot to do with confidence, and summer awakens that in a fresh way.
Now, don't go scurrying around looking for some wand that doesn't exist. Black girl magic starts with you; summer is just a bonus.
Playing Around With Different Hairstyles Is Easier And So Much More Fun
There are endless possibilities within the black community to get your hair styled. Summer is the time for vacationing with goddess faux locs, or rocking a natural afro at a music festival.
Throughout the year, work often stifles my creativity with my hair, because some styles are deemed "unprofessional." Also, I often don't want to be bothered with invasive and insensitive questions from people who don't understand.
But during the summer, ask whatever culturally immature questions you want, because I'll probably be knee-deep in an ocean, with a margarita in my hand.
You know, the sweet life.
Owning Your Melanin Is Invigorating
You know that feeling when you just shaved your legs and finally washed your sheets? The two together put you in a self-satisfying, euphoric state.
That's how I feel in the summer, owning my melanin. I feel less constrained to a protocol in the summer, because there's so much to do, and of course, to wear.
Whether it's high-waist shorts, or an off-the-shoulder top, I'm soaking in the sun's rays, and there's no filter needed.
It's hard to find clothes for my body type, so being able to wear a seasonal outfit that's cute and fits well is worth the shopping hassle months before.
Embrace A Swimsuit That Makes Your Skin Pop
There are a plethora of beautiful shades of women, so finding a swimsuit that reiterates that is awesome.
But, like most shopping trials and tribulations, you have to test the waters. I, for example, prefer earth tones to complement my melanin.
Recently, I've found luck with several Fashion Nova swimsuits. Online shopping can be a total nightmare, but seeing someone wearing the swimsuit who kind of looks like you (shade or shape) definitely helps.
Try what works for you, and rock it.
Summer Is The Perfect Time To Explore Historical Places
Summer is the ultimate time for living the adventurous life.
Black skin has so much history in America, and it's a disservice to yourself if you don't make your way to a museum, town, or monument throughout the upcoming sizzling months.
Remembering where your skin has been is crucial for appreciating the conjuring of black girl magic. Make your way to some history, and who knows, you might make some of your own someday.
Set An Example, And Inspire
I make it my job to embrace my black girl magic because it brings me joy; it's who I am, and I hope it will inspire others.
Every day black women are forced to notice the odds against us, that there doesn't seem to ever be a silver lining to contentedness.
I let the opportunities and high spirits summer offers allow myself to continue to reiterate the respect and grace I carry along with my skin. You have to be what you want to see in the world, and maybe it will cause a ripple effect.
Again, don't let summer be the only time you're embracing your black girl magic. If you haven't just yet, it could never be a bad time to start.