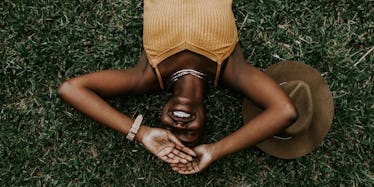 How I Learned To Push Back The Negativity And Celebrate My Blackness
Overcoming anything in life is an accomplishment. But accepting my blackness as a gem (as opposed to a handicap) is probably the most liberating achievement of my life so far.
You see, no matter how much your parents love you, loving yourself is something you have to work on every day. And as a black person, there is so much perpetuated negativity that can weigh you down.
You start to drown in your own self-pity and hate.
All of this keeps you from the beautiful shore of acceptance on the island of "Love Your Melanin."
Sadly, it wasn't that simple to just settle in the skin I was born in. I didn't immediately just love it for everything it was.
But I DO owe the tremendous respect and love I currently have for my blackness to several things:
1. My History
Black history in America contains some of the most tragic, empowering and beautiful stories you will ever hear. Really delving into black history – and not the edited version they try to tell us in school – was a stepping stone for me toward accepting where my skin had been, and what I involuntarily wore on my bones every day.
My skin is a story in organ form: There isn't only one way to tell it. Thankfully, I have the profound opportunity to represent that for the rest of my life, as well as add to my own story.
Knowing what happened in the past showed me I had no reason to feel odd – like an outcast – especially when so many people had fought and died for us so we could keep our distinction and still be classified as equal human beings.
At the end of the day, we all share one race... and that's the human race.
2. Conquering My Hair
The word "conquering" is completely appropriate because it refers to the idea of winning the war on "good hair" and just owning what you have.
Growing up, water was petrifying to me because when my hair got wet, it was deemed nappy and untamable. But really, it was just being natural.
I now cut, shave and grow my hair without any harsh chemicals, just to show the world how incredibly adaptable and beautiful black hair is.
When you do what you want with your hair as a black person, you no longer cage that fear and insecurity of fulfilling the "bad hair" stereotype.
Whether you weave it up, pick it out or keep it braided, as long as you're wearing your hair for yourself and no one else's approval, that's owning your blackness.
3. Seeking Out Like Minds
No, this is not me saying you should only hang out with black people. Instead, surround yourself with people who don't expect you to feed stereotypes about being black because they've already judged and categorized you.
It's exhausting to play a role, and you only end up losing more and more of yourself. Being around people who don't think others should adhere to guidelines in order to be truly "part" of a certain race is key.
There were things I didn't admit to liking or knowing because they weren't expressions of being "black." So, I was literally torn between being who I was and abiding by a checklist of socially acceptable black qualities in order to maintain my blackness.
4. Love
This seems simple, but we all know love – especially loving yourself wholeheartedly – isn't just going to fall in your lap. I found that out when I gathered the things I genuinely loved and cherished about myself, without attributing them to my blackness first.
At this point, I knew I had something to offer the world. Now, when I threw in the idea that I was given all these qualities tucked under my beautiful black skin, I realized the total package was indistinguishable.
Without one, I can't identify with the other. I'm sure this applies to all races, but I can only speak from my own experiences.
The fact that you value your blackness won't be valued by everyone. Trust me: The world has yet to completely flush itself of the pre-existing judgements it has about black skin.
But if you find your footing on the shore of acceptance, no matter how harsh the tides may be, you'll always enjoy the view from where you are.