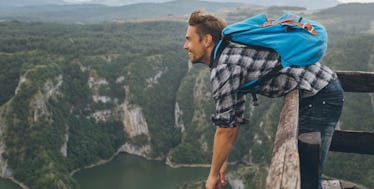 15 Trips Every Adventurous Guy Should Take By Himself In 2016 (Photos)
Humans are the descendants of nomads -- we were born to explore. There's something inside all of us urging us to get up and go.
The intensity of these adventurous sentiments varies from person to person.
Some of us are quite content to stay where we are the majority of the time. Others find fulfillment in taking short vacations each year. And then there are those who only feel at home when they're on the road.
We should all take the opportunity to travel at some point in life. We live in a big, beautiful world, and it's a tragic waste not to traverse as much of it as you can during your lifetime. It's true travel is a privilege, but there are ways to work around the obstacles.
There's also particular value in traveling alone, as it challenges you in ways you never could've imagined. This is especially true when you're still young and relatively uncertain of yourself.
When you're trying to figure out who you are and where you'd like to end up in life, sometimes the best route is one that wraps (or zig-zags) across the world.
Indeed, traveling alone makes us wiser.
Everyone should go on at least one solo excursion in his or her lifetime.
When I was a kid, if you'd asked me what I wanted to be when I grew up, I probably would've said, "Indiana Jones." I think it's safe to say I'm not alone in this regard. At some point, every little boy dreams of being a swashbuckling globetrotter.
If you've yet to pursue this dream, do yourself a favor and fulfill it next year.
Here are 15 badass places every guy should travel to in 2016.
Walk the West Highland Way (a 90-mile trek), hiking and camping amid the stunning scenery of the Scottish highlands.
Get down to some funky tunes in the incredible cultural hodgepodge that is New Orleans, Louisiana, USA.
Explore Wadi Mujib, a vast canyon with waterfalls and rocks to climb, in Jordan.
Go kayaking in Khao Sok National Park, Thailand.
Check out what is possibly the best view of the stars on the planet in the Atacama Desert in Chile.
Drink some of the best beer in the world in Brussels, Belgium.
Find peace exploring beautiful mountains in North Cascade National Park, Washington, USA.
Sleep in a tent hanging from a tree in Waldseilgarten, Germany.
Or sleep in a capsule hanging 1,300 feet above the ground at a hotel in the mountains near Cusco, Peru.
Hop into a hot air balloon in Cappadocia, Turkey.
Grab a pint inside a 6,000-year-old tree at the Sunland Baobab Pub in South Africa.
Camp and hike next to one of the best views on earth in Big Sur, California, USA.
Sit back and relax on a beach next to a Mayan ruin in Tulum, Mexico.
Shoot a bow and arrow and get an amazing dose of nature in Ladakh, India.
Get completely lost on purpose in New York City, where anything is possible.