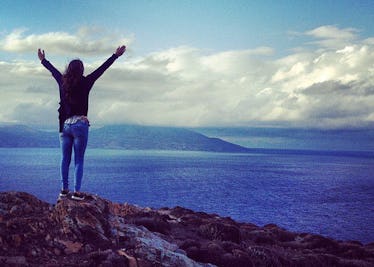 14 Travel Hacks To Save You Money When You Decide To Drop Everything And Go
Ready for your most adventurous year ever? Get there cheaper, faster and easier with the following travel hacks:
1. Get Free Nights At Luxury Hotels
Hospitality establishments, particularly boutique hotels, are always trying to get publicity, which can be challenging, given their smaller budgets. Therefore, they're generally willing to barter with travel writers.
It doesn't matter if you write for a small publication, just make sure to email the independent hotel's marketing manager at least a month or two ahead to work out a deal. You may not get a completely complimentary stay, but the hotel will usually either comp a portion of your trip or give a percentage off the price.
2. Buy The Cheapest Airline Tickets
Tuesday, 3 pm EST is the cheapest time to buy a ticket. Airlines aggressively advertise sales on social media, so follow your favorites on Twitter and Facebook. These sales are usually pulled before Thursday, so be sure to book your ticket before Wednesday night.
Flying on Tuesdays and Wednesdays usually provides for a 15-25 percent drop in the ticket price. Fly into hubs and book shorter legs separately. In addition to fare aggregators like Kayak, FareCompare and Skyscanner, check the airline's site and in different currencies to see if the ticket is cheaper.
3. Travel As Light As Possible
Traveling light saves you money on luggage fees, but also expedites the actual traveling process. Pro travelers tend to carry two bags — one bag for clothing and a smaller one for airport essentials. At the end of your trip, make a list of everything you packed, cross out the things you didn't use and never pack those again.
Put breakables in your shoes, blinder clips over your razors, and dryer sheets in your suitcase. Everyone knows the rolling clothing trick, but don't forget to use vacuum seal bags, which allows for easier partitioning of your clothes.
4. Make Friends As You Travel
Particularly when traveling through South America or Southeast Asia, since transportation is priced by the cost of the vehicle rather than per person. So, sharing the costs with fellow travelers will always save you some money. Frequent travelers are easy to find through Hostel World. In addition, if you befriend a few locals, you could learn some inside information regarding the quickest and best routes around town.
5. Use Credit Cards To Fly Free
Acquiring air reward miles can be a lengthy process, but if you use the right credit cards, you will capitalize on the perks quickly. Keep an eye out for credit card promotions that offer air reward miles.
Complain on social media if airlines do anything wrong and they're more likely to give free miles. Call and threaten to quit the credit card and they will likely give you free miles not to do it. Sometimes, you can earn up to 40,000 miles just by applying for the card! Check out the Frugal Travel Guy and Million Mile Secrets to stay on top of these deals. Superfly also helps you to organize your rewards.
6. Get Someone Else To Pay For Your Travel
If your travel plans have an interesting theme, it's likely that you can get someone to pay for it. By using Indiegogo or Crowdtilt, people will be able to contribute to your travels and live vicariously through you. Check out these examples to get some ideas: 13 countries, 1 shoe; The Travel Experiment; Teens to Thailand.
7. Make Traveling Part Of Your Job
It's surprising how willing conference organizers are to let anyone speak at their meetings, given a convincing pitch. Not all of the gigs are paid, but travel stipends are usually available. Plus, it's a great way promote your company. Every time I travel to a new city, I check events on findmeaconference.com, allconferences.com and conferencetracker.com. You can also check LinkedIn by searching location and loading up on meetings that are in line with your professional interests.
8. Create More Vacation Days
If your company has work-from-home flexibility, use those as the first and last days of your vacation. Since most airports have Wifi, you'll probably be able to grind out a couple hours of work. Hey, if you're a citizen of the world, you can interpret "home" liberally.
9. Drink Local Beer
Nearly every country you visit will have its own domestically produced beers that will be significantly cheaper than imported ones. The best brew in Southeast Asia? Beer Laos, by far! Drinking local beer can also help you stay healthy — sometimes, bars and hotels will sell fake versions of well known beers, which will end up giving you a killer hangover.
10. Hotel Rooms Are Overrated
Hotels are expensive, isolating and frankly, not that interesting. CouchSurfing is a great alternative to booking a hotel. With CouchSurfing, you can stay in a stranger's home for free. Don't worry, the website has an excellent rating system to determine whether or not the host is trustworthy, so it is a perfectly safe way to travel.
Airbnb is another excellent website that offers an alternative to staying in a hotel. This website includes listings for private rooms, boats, castles and igloos. Roomorama offers higher end rentals to professionals and their families.
11. Make Money On Your Empty Apartment
Even if you're away just for a day or two, rent out your pad! Check the listings to make sure you are being price competitive, but also make sure you don't sell yourself short. Have Airbnb take the photos to make your apartment look even better. List your apartment on Craigslist or any local publication you can find, as well.
12. 2014 FIFA World Cup Hacks
Tickets range from $150 to $2 million, so you unless you sell everything you own, you probably won't be able to see every match. Why not experience the immense passion of football by watching the game with thousands of other fans in a public outdoor viewing of the game. This kind of atmosphere can't be beat. Food and alcohol will be cheaper too.
Furthermore, since the host cities are all over the country, you'll have the perfect opportunity to see everything Brazil has to offer. Why not buy a ticket in Rio de Janeiro, so after the match you can relax on the spectacular Ipanema and Copacabana beaches. Or, you could go to host city, Manaus, and see the beautiful scenery of the Amazon rain forest while you're there.
13. Eat At The Best Places
Forget Trip Advisor and Yelp. In a new city, walk down the main road and eat at the restaurant that has the most locals — it's guaranteed to be the most authentic (and often, cheapest) food. Use your best judgment though; if the restaurant is empty, that means the locals don't trust it and you shouldn't either.
14. Travel Indefinitely
Ready to uproot for a longer period of time? Try Wwoofing, a great program that allows you see the rural side of many different countries, if you are willing to get your hands a little dirty. If you want something more modern and urban, you can Teach English in China, South Korea and Japan.
Photo via We Heart It