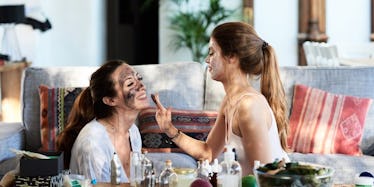 7 Tiny Beauty Changes To Make In Your 20s To Prepare For Your 30s
Guille Faingold
Here's something that might blow your mind: Life in your 20s and 30s isn't that different.
What does change is you -- and the amount of energy you're willing to devote to things you don't exactly enjoy... and the number of risks you're willing to take to change things up.
Unless you're a skincare expert or a makeup artist, I think we can all agree that our beauty routines can get a little, well, routine.
So in the spirit of setting yourself free of falling into a beauty slump, consider making these small changes to your beauty routine now. Your 30-year-old self will thank you.
Retinols
Retinols and retinoids are the only proven product to actually reverse the effects of aging. In your late 20s, you should start using retinol products so that your skin has time to get used to them before switching to a prescription strength retinol product in your 30s and 40s.
Use it every other night after you wash your face, and mix in some moisturizer to prevent skin from drying out. Oh, and always wear sunscreen and even a hat on bright sunny days if you're using retinol products. They make you very sensitive to sunlight, so without extra protection, retinols could potentially age you faster. Scary.
RoC Retinol Correction Deep Wrinkle Night Cream, $14, Amazon
Switch Up Your Hair Part or Try Bangs
Your 20s is the perfect time to experiment with your look. I know it's easy to settle in on one thing (I will never get rid of my bangs), but if you're gonna do a fun pixie cut or a cool dye job, why not now?
If you're morally against taking hair risks, changing your part from side to center, or vice versa, is an effective way to change your whole look in minutes. If you have a rounder face, a center part will elongate your face shape.
If you have a longer face shape already, try switching it up to a side part to soften and round out your features.
Start Wearing Sunscreen
Your 30s brings a brand new devotion to skincare, so it's best to start laying the foundation for that now with a daily application of sunscreen.
You may not think about it much in your 20s, but if you're wearing a BB cream with sunscreen in it, you'll be happy you made the change when you realize how many wrinkles you've prevented. Try a broad spectrum sunscreen with an SPF of 30 or higher.
I'm a huge fan of Marcelle's BB Cream.
Marcelle BB Cream, $29, Amazon
Hack Your Lashes
One trick that'll make your life easier — instead of spending countless hours trying to apply falsies — is to dot the slightest bit of liquid eyeliner between your lash roots to make them appear thicker.
To do this easy trick, make sure you get a liquid liner with a super thin applicator tip for precision. You'll be surprised at how gorgeous the results are, and it's actually way better for those who feel like their eyes are too small for a strong line across the lid.
Try Kat Von D's Tattoo Liner. It has a tiny precision point and is waterproof, so it will last all day.
Kat Von D Tattoo Liner in Trooper, $29, Amazon
Serums
Ah, the world of serums will open up to you in your 30s like a blooming flower in the springtime... or something. You'll be asking yourself where in the hell they were hiding all your life.
Start by wearing a Vitamin C serum with antioxidants for added sun protection and increased collagen production, or a hyaluronic acid serum like the one from Skinceuticals to lock in moisture and elasticity.
SkinCeuticals Serum 15, $104, Amazon
Perfect Your Eyebrow Shading Technique
Shading your brows is an art form that can take years to perfect, but the trick that made the biggest impact for me was to brush my eyebrows upward toward my forehead to see where the sparse patches were, filling in from there.
It's a tiny change that has a huge impact on the way you do your brows.
Aesthetica Precision Brow Liner, $10, Amazon
Gentle Cleanser
Sure, we all know to wash our faces at night, but getting into the habit of using a gentle exfoliating cleanser in the mornings will help remove products and oils from the night before.
If you do this already, that's great! Just make sure you're using a gentle exfoliator, as too much exfoliation can rub your skin raw and nobody wants that.
Origins Checks & Balances Frothy Face Wash, $22, Sephora
These small changes will make a lasting impact, and as much as these trends change over the years, these tried and true techniques aren't going to go out of style.
You'll be able to stick with them throughout your life, so make the transition easier by getting into the habit now.