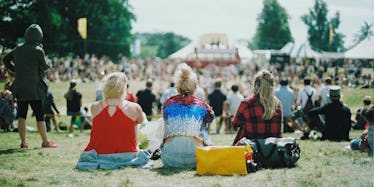 5 Thoughts First-Time Ravers Have Going To A Music Festival
Unsplash/Pexels
If you're a first-time raver, the thought of going to a music festival is both exciting and nerve-racking.
There are all types of people who attend, and you've chosen to join the tribe.
Because raves have become so large and popular, they really have created their own culture and vibe. But, no worries; like any culture, there's always room for people who want to join and experience it.
There are most likely a million thoughts running through your head as your try to prepare for your first rave. In that case, you're off to a triumphant start toward your road of fun.
Here are a few questions that are likely probing your thoughts the most.
1. What The Heck Should I Wear?
Honestly, it's most important to be comfortable and feel great. You will see a lot of tutus, flowers, bright colors, spandex shorts, and decorative bras.
If you're OK with that, definitely join in on the fun and create your own innovative outfit. Make sure it's something you can dance and rock your moves in.
2. What Should I Pack In My Purse?
This one depends on the company throwing the event. Most of the time, you can't bring food or drinks with you, because they want you to purchase stuff inside the festival grounds.
A fanny pack is always a good route to go, in exchange for your regular bag. It stays on your waist, and isn't in the way to cause any unnecessary stress.
Your phone, money, credit cards, and ID are some of the go-to necessities you'll need in your fanny pack. An extra portable charger couldn't hurt, either. You can't miss out on capturing all of the good performances on your Instagram story.
3. How Can I Link Up With Friends Who Came Separately?
Cell reception is pretty poor at these events, because there are so many people trying to use their phones at once. It's smart to either plan out a meeting post before you get there, and in case someone gets lost in the shuffle of the rave.
Another strategy is to get creative and make your own decorative totem. It will be able to soar above the crowd, and let any stragglers know where your squad is.
4. Will I Get The Most Out Of What I Paid For?
This one is all up to you. Some raves cost a pretty penny, but if you bring an open attitude and high spirits, there's no reason why you shouldn't have a great time.
There's no way to put a price on the experience but as long as you are going with the intention of making memories, that is exactly what you shall do.
5. What Type Of Shoes Won't Make Me Regret Wearing Them?
Open-toe shoes are definitely risky, because there will be a lot of walking and maneuvering through crowds. A lot of the shoes you'll see people wearing are Vans, Converse, and other comfortable tennis shoes.
Even girls who wear those cool fluffy leg warmers have super comfortable shoes underneath.
There's no doubt about it, your very first rave will be filled with irreplaceable memories. Stay open to all of the types of music, people, and just the universal cool vibe that transcends at these events.