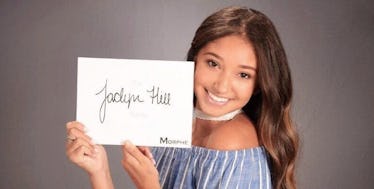 A Teen Took Senior Portraits Holding This Insanely-Good Makeup Palette And Won The Yearbook
Courtesy of Mikala Graves
Some people plot their outfit months, if not years, ahead of time. Many go the route of painful orthodontia and sensitizing teeth strips. Others risk their lives to drape themselves seductively over railroad tracks. What do all these people have in common, you ask? They're high schoolers plotting the perfect senior portrait — a visual time capsule, captured in a single click, that conveys to peers and all posterity the very essence of who you are. Yearbook photos are that big of a deal, just ask the yearbook committee. So when a teen posed for her senior portrait holding a makeup palette, she instantly became icon status to beauty-obsessed women everywhere.
Who is this trailblazing young woman? Her name is Mikala Graves, and she shared her genius with the world via Twitter, as many great minds do. A few days ago, the high school senior shared a collage of her adorable senior portraits: two shots of herself sporting a totally on-trend off-the-shoulder top and white choker, holding up and applying her beloved Morphe x Jaclyn Hill Eyeshadow Palette ($38; morphebrushes.com). Little did she know that Jaclyn Hill, the celeb makeup artist who actually created the palette in collaboration with Morphe, would catch hold of her post and retweet it to her 1 million followers.
I mean, has there ever been more compelling motivation to just do you? Mikala wanted to spice up her senior portraits with something that truly excited her, and that's what she did. "I didn't want my senior pictures to be the basic smiling photos, so I thought I would include something that I was currently obssesed with," Mikala told Popsugar. She also did a solid for everyone in the dark about the palette, which is currently sold out, but soon to be restocked. If you don't know anything about Morphe, the brand absolutely kills it at the makeup brush game. The brush offerings are endless, astonishingly affordable, and makeup artist-quality, so I'm willing to wager the brush Mikala holds is also from Morphe. But back to the palette: Hill worked for two years to develop and test every one of the 35 hues of eye shadow, in finishes ranging from matte to shimmer to foil.
Upon seeing that shade range, I totally get it, Mikala. Another amazing result of that plucky portrait? A young woman named Cosette Perez came forward to share her own beauty-centric senior pic, also showcasing a product created by Hill. I'll bet it's Becca Shimmering Skin Perfector Pressed Highlighter ($38; sephora.com), a top-rated, limited-edition item on Sephora's site.
Now that I'm aware this is a trend, I wonder how many other seniors are out there just dedicating their precious yearbook space to declare love to makeup. Only time will tell, but let's review what we've learned: truly epic senior portraits are made by embracing what you adore. Today's high school seniors are proud to be beauty obsessed, providing inspiration for the rest of us to own our beauty routines. Oh, and Hill is a whiz who invents absolutely fire products.