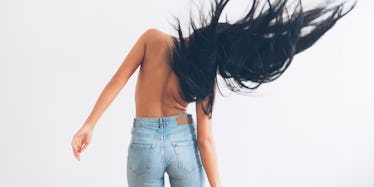 This New App Will Give You Professionally Styled Hair At Home — For Free
Picture this: you're perched cozily on your couch, texting the crew about the evening's plan while your hair is curled into goddess waves with Chrissy Teigen's products of choice. You reach for your wallet because you're a classy woman, but the stylist swipes away your hand and mutters something in French. This celeb-level life can be your reality. From today until September 23, the Glam App and TRESemmé are offering free hair styling in the privacy of your own pad. I'll say it again: They're doing it for free. FULL STOP.
Available in 21 cities across the country, the on-demand app functions like Seamless for slaying, hailing beauty pros for everything from at-home manicures to makeup application. Snag the complimentary strand session by downloading the app, selecting the TRESemmé Work It Waves Style, and inputting the code "TRESWorkIt." You can schedule the appointment ahead of time or immediately, and there's no catch or cost involved, just selfie-worthy hair.
But why is corporate America so generously appealing to our collective desire for swag and sexy bends? It's actually not restitution for the news cycle/abomination; it's because the brand wants women to feel comfortable putting effort into our looks. In a culture of #wokeuplikethis (where most didn't but hashtag anyway), TRESemmé conducted a study that found 70 percent of millennial women downplay our beauty routines. If the pressure to look perfect 24/7 isn't already enough, we now have the additional burden of playing it cool and pretending we didn't do anything to achieve it.
Cara Santana, actress, fiancé to Jesse Metcalfe, and co-founder of the Glam App, tells Elite Daily she'd like the shame around giving a sh*t to dissipate, stating there's nothing wrong with wanting to embrace looking good and the direct correlation to feeling good. And she's spot on, because the study also found that 80 percent of women attribute hair as the leading factor in their confidence. The real aim of the gratis glam session is "creating an environment where women are proud of the work that goes into their appearance and the confidence it unlocks for them," according to TRESemmé.
So there you have it: whether you woke up like this, didn't, or didn't even wake up, own it and don't let anyone make you feel silly about it.