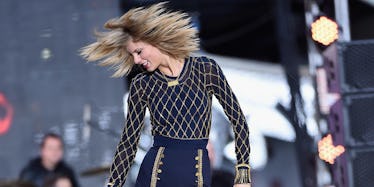 Why You Should Pull A Taylor Swift And Own Your Inner Basic B*tch
Getty Images
Basic: It is a term used these days to categorize (most specifically) white women and alert others that these women are uninteresting, overused, overdone and not worth their time. UrbanDictionary — the most dependable database for the ever-changing landscape that is adolescent slang — defines basic as "an adjective used to describe any person, place or activity involving obscenely obvious behavior, dress or action as unsophisticated with transparent motives."
Another definition details the following:
1. Used to describe someone devoid of the defining characteristics that make a person interesting, extraordinary or just simply worth devoting time or attention to. 2. Lacking intelligence, and unable to socialize on even an elementary level. 3. Annoyingly frustrating because of the above.
These definitions are scathing, insulting and demeaning. They are based on liking the same things others like.
You don't want to be a #BasicBitch these days. I don't necessarily take much issue with the term, but I loathe what it stands for. There are not many things that irk me, but this does.
Why is it that I am categorized as "basic" if I like yoga pants? Is there a woman (or man, for that matter) who cares to dispute their comfort and versatility? I think my ass also looks great in some rockin' jeans, but I'd pick leggings any day.
Instagram loses its sh*t during the fall. Every day, another one of my friends is going to pick apples or pumpkins. (What do you do with them? Where does the fruit go? I can't make an apple pie, and I have neither the time nor commitment to carve a pumpkin.)
Many of these are captioned "basic fall activities," as if gathering harvest fruit isn't something that's legitimately been done for centuries. It's as if those who want to spend a day outside with their friends, grabbing apples because they genuinely like them, are suddenly lacking both intelligence and the ability to socialize.
That being said, by all external qualities, I am quite basic. I grew up in a suburban town in New York. I was a 45-minute train ride away from Manhattan, but I had no shortage of woods and the outdoors in which to play.
My town was obscenely safe. I rode my bike to school by third grade, and my parents never had to give me a curfew. To this day, they do not lock their front door. Several times, I have left it wide open after coming home from the bar, and I have faced no consequences.
In high school, I was an honor student and an athlete, and I ran with the mostly popular crowd. I was well-liked by my peers, and I had no trouble finding a boyfriend of the "right" type.
I was invited to parties. People wanted to be my friend. By no means was I idolized in the way the creators of teeny-bopper fictions want us to think popular girls usually are, but I loved high school. Things were easy.
I got a full academic scholarship to college, where I was able to play on the basketball team. I didn't kiss a boy in college until Ryan, who I fell for in the March of my freshman year. By May, we were dating.
Four years later, we live together. We talk seriously about engagements, weddings and kids.
I went to school, and I knew what I wanted to be: an English teacher. I graduated summa cum laude from the honors program, with a 3.88 GPA. My basketball career was less successful, but I managed to overcome two major injuries and secure a coaching job post-graduation.
I went right into grad school — for which I also got a scholarship as part of my graduate assistantship — and I spent the next year loving the baby adulthood I was in, while completing half of a master's degree for free.
I got a job immediately after my assistantship ended. I spent the last eight weeks of the school year doing what I always wanted to do while growing up. I left that district, and I entered into a full-year placement at a closer, in-state district with hopes of tenure.
That's where I stand at 23: living on my own with a big girl job and "basic" interests. I love pumpkin spice coffee.
I also enjoy red wine, tequila shots and tacos. By no means am I immune to the charms of Tim Riggins or Derek Shepherd, and I really wish I could be Blair Waldorf or Olivia Pope in another life.
I Snapchat when I'm doing fun things, and I try to Insta the perfect picture with the perfect caption. By any stretch of the definition, these are "basic" qualities.
I am absolutely Instagramming this picture because I want you to see how cool my life is. I crave your likes and acceptance. Anyone who says differently is lying.
Roxane Gay's "Bad Feminist" aptly discusses privilege and what it means to really be aware of the privileges one has had throughout his or her life. I've had plenty.
My life so far has been relatively easy. Gay discusses — through her accessible, humorous, blunt and so-true-it-hurts writing — that we have come to a point in society where we are so quick to dismiss the thoughts of those who we have deemed "too privileged."
Must we satisfy our need to be heard and seen at the expense of not allowing anyone else to be heard and seen? Does privilege automatically negate any merits of what a privilege holder has to say? Do we ignore everything, for example, that white men have to say?
Her point — and mine — is no. We cannot. Each of us has a story to tell, whether that story is one of hardship or privilege. What I try to teach my students every single day is the fact that what they create is inherently them. I simply could not put my pen to paper and write the same thing.
Even their cookie-cutter, literary analysis essays are teeming with their angsty and anxious adolescent voices, so eager for my approval and an A. I can hear their personalities through the pages. Although the grading can be tedious, it is truly a joy to hear a student's voice shine through his or her work.
I am white. I am middle-class. I have not dealt with a major accident, life-changing hardship or "lack of." I have always had school and friends, and I have never truly faced discrimination and oppression.
Does all this mean I have nothing valuable to say? Does it mean I am not worth time or attention? Does it devalue my experiences, my stories or my life? Does all this categorize me as nothing more than "basic?"
I am more than my external characteristics. I am — as we all are — more than the checklist of things strangers on the street can observe about us. We each have a story to tell and that story, whatever it may be, can be only ours.
Every time I read another's writing, I find a piece of myself in each sentence, paragraph and chapter. I am exposed to new nooks and crannies of the person I have spent my whole life getting to know. Yet, while I feel so connected and in tune with an author or a character, I know none have walked in my shoes or traveled my path.
So, however common my interests or devoid of defining characteristics my stories may be, I — at the very least — can claim them as my own. To tell one's story unashamedly, unabashedly and without the fear of judgement from closest friends and complete strangers is absolutely and unarguably not "basic."